Pigs are vertebrates, mammals, livestock, usually with big ears, head length, nose straight, back narrow as the main physical characteristics. Hair is more rigid, according to different varieties, divided into white, pink, black, brown and color. Pig is the wild boar by human acclimation after the formation of subspecies, fangs than wild boar, is one of the human livestock, in general, domestic pigs refers to the human storage for the consumption of pig breeds.
Body fat, short limbs, nose long tone, body fat short, warm temper, strong adaptability, breeding fast. Average life expectancy of 20 years. Is one of five animals (cattle, dogs, sheep, pigs, chickens). China's pig is the ancestors of the earliest domesticated pigs.
Pigs have the genetic characteristics of natural arch soil, Gong soil foraging is a prominent feature of pig feeding behavior. Pig nose is a highly developed organ, in the arch foraging, the sense of smell plays a decisive role. Pigs are particularly fond of sweets, and found that unmarried newborn piglets love sweets. The pig is fed more than the single feed pig, eat fast, weight gain is also high.
This is the pig lapel pins, cut pink pig design. It's a flying pig, not normal one, has two white wings seems fly on the sky. The little snail back is frizzy, four foot are swing back, so happy. Whole pig are pink colors, also the foot. The eyes is smiling.The pin pin is made with zinc alloy because of the small snail, hard enamel and nickel silver plating. More animal pins:
birds lapel pins
,
owl lapel pins
,
cat lapel pins
,
dog lapel pins
,
snake lapel pins
,
horse lapel pins
,
peacock lapel pins
and
rabbit lapel pins
.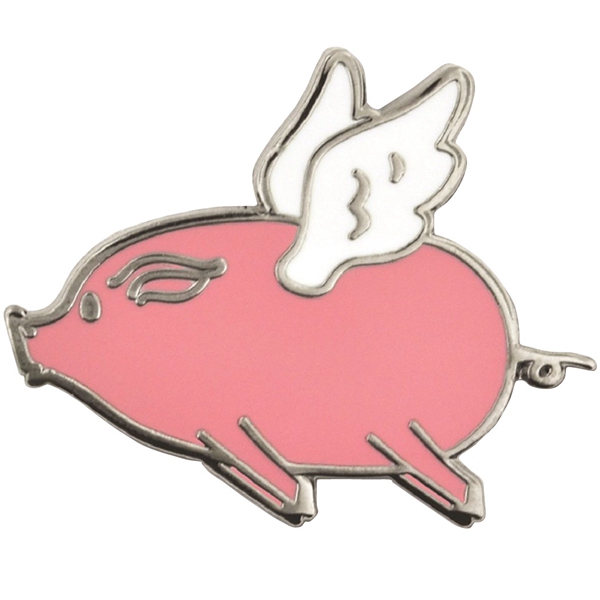 Below is the details:
1) Pig lapel pins
2) Material: Iron/bronze
3) Size: 1" or custom size
4) Attachment: Butterfly clutch or rubbers
5) Production process: Die struck-hard enamel-silver plated
6) Minimum order: No MOQ
7) Sampling time: 7 days
8) Delivery time: 10-15 days for 100-5000pcs
9) Packaging: Each into a free poly bag
10)Payment Terms: T/T, Western Union, Paypal