Horses are herbivores. They are being tamed mankind 4000 years ago. Horse was the main driving force in the ancient agricultural production, transportation and military activities. Approximately more than 200 breed horse in the world. Mainly used for equestrian sport horses producing milk and meat now. However, in some developing countries and regions, the horse is still served more, and are an important source of labor force. Horse staple food is grass.
Horse can be found in Eurasia, Africa and South America. The earliest ancestor of the horse hyracotherium living in the forest in North America, with leaves for food. Guma when prairie evolved to Miocene, into prairie life, then the horse began to feed hay, living in the prairie.
Many people love horse, they are like the feeling of gallop. Imagine horse running and you are flying. Here is a horse lapel pins we made before: two horse standing facing each other, white hair and tail with gold metal. Center with shield and big ""M", many area with recessed metal. Bottom with some blue stripe. Here are more animal pins:
rabbit lapel pins,
chihuahua lapel pins
and
peacock lapel pins
.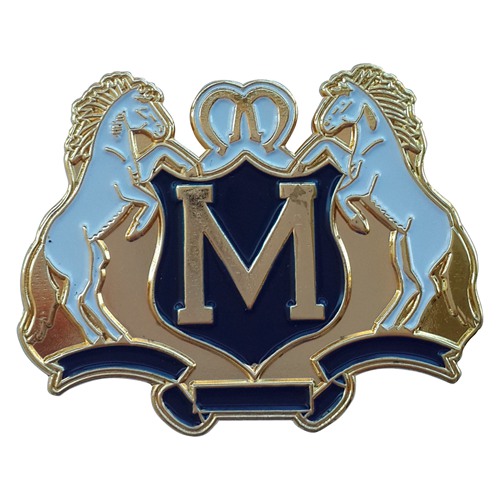 Below is the detailed specification:
1) Horse lapel pins
2) Material: Iron/Bronze/ Zinc alloy
3) Size: 1.5" or custom size
4) Attachment: Gold butterfly clutch
5) Production process: Die struck-plating-soft enamel
6) Minimum order: No MOQ
7) Sampling time: 7 days
8) Delivery time: 10-15 days for 1000-5000pcs
9) Packaging: Each into a free poly bag
10)Payment Terms: T/T, Western Union, Paypal