The object makes a circular motion around a point or an axis. If the earth rotates around the axis, it also rotates around the sun. In mathematics, rotation is a type of graphical movement. In a plane, turning a figure around a fixed point in a certain direction, such a graphical movement is called rotation. The point O is called the rotation center, and the angle of rotation is called the rotation angle. If the point P on the graph is rotated to become the point P, then these two points are called the corresponding points of this rotation.
Round is the base of spinner, the most popular thing recently is the fidget spinner, US, Canada even all the world are deeply liked this small thing. Magic and funny, you can spend time on it or have fun all the day. The
car keychain
is also very funny.
This spinner lapel pins have the colorful enamel, there are green with "OFF",yellow with "THIS", orange with "ME", red with "YOU", purple with "IT" and blue with "THAT". Spinner is the arrows black metal and white "FUCK" on it. It's a interesting option when you play with the spinner pin. Here is more
round pins
:
California lapel pins
.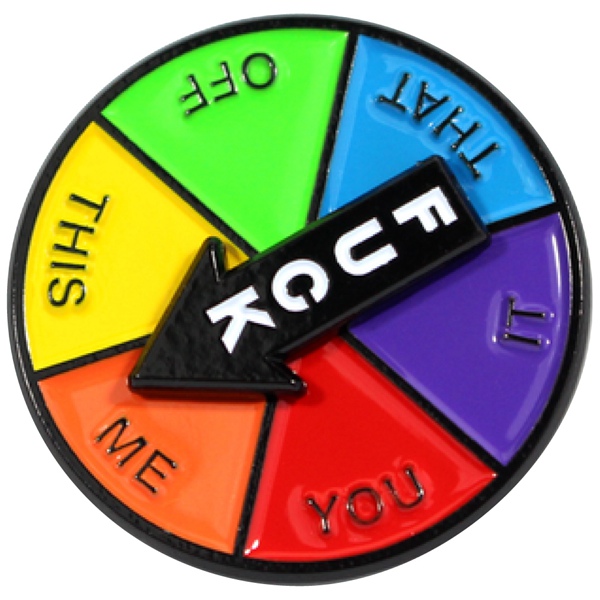 Below is the details:
1) Spinner lapel pins
2) Material: zinc alloy
3) Size: 1.5" or custom size
4) Attachment: Butterfly clutch or rubbers
5) Production process: Die casting-polishing-black metal-soft enamel
6) Minimum order: No Minimum (No MOQ)
7) Sampling time: 7 days
8) Delivery time: 10-15 days for 100-5000pcs
9) Packaging: Each into a free poly bag
10)Payment Terms: T/T, Western Union, Paypal