A cellphone or a wireless&mobile phone, was originally a communication tool. It is a portable telephone terminal that can be used in a wide range. It was first developed from a field cellphone manufactured by Bell Labs in the United States in 1940.
In 1958, Soviet engineer Leonid Kupriyanovic invented the ЛК-1 mobile phone. In 1973, American Motorola engineer Martin Cooper invented the world's first commercial mobile phone. So far, it has developed into the 5G era. Famous brands such as Apple, Samsung, Huawei, Lenovo, HTC, etc.
The cellphone is divided into Smart phone and Feature phone. The performance of the general smart phone is better than that of the non-smart phone, but the performance of the non-smart phone is more stable than that of the smart phone.
The mobile phone operation mode has a button type and a touch screen type, and the operating system includes Android, iOS, Symbian, Windows Phone, Firefox OS, MeeGo, and the like. Uses include news, information exchange, learning applications, music, TV, games, stock trading, etc.
Here the cellphone lapel pins have two: button or touch screen one. Left one is famous Apple cellphone, the bottom round button and quadrangle round corner are the classic design, made with silver metal and black enamel, but broken screen little joke. The button one seems the Nokia old cellphone. Durable and classic brick shape, very practical and cheap. Here are more technological pins:
telephone lapel pins
and
rocket lapel pins
.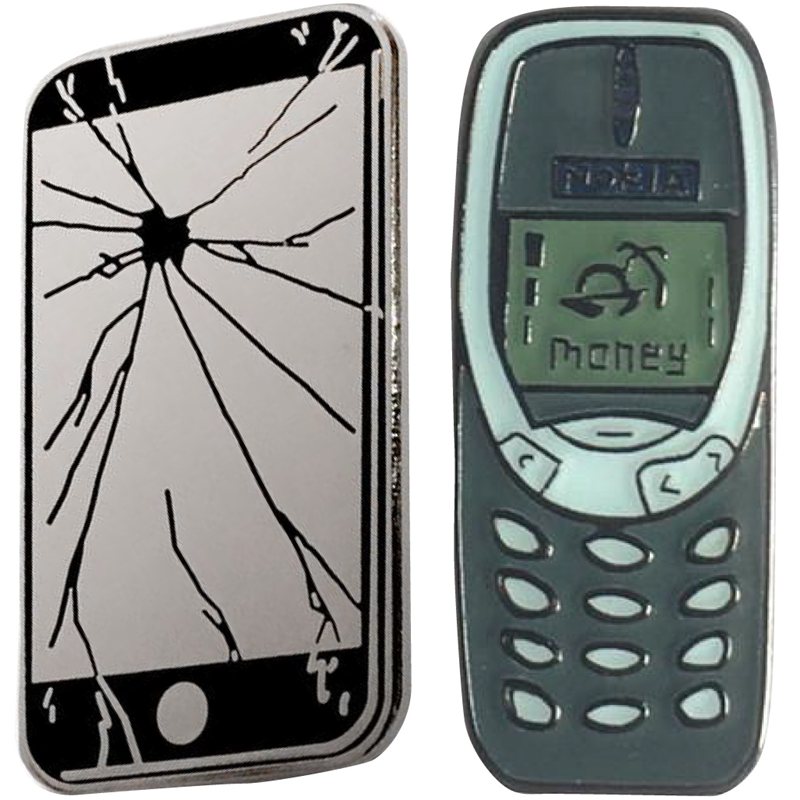 Here is the details:
1) Cellphone lapel pins
2) Material: Iron/bronze/zinc alloy
3) Size: 1.25" or custom size
4) Attachment: Butterfly clutch or rubbers (black,yellow or red)
5) Production process: Die struck-polishing-silver metal-soft enamel
6) Minimum order: No Minimum (No MOQ)
7) Sampling time: 7 days
8) Delivery time: 10-15 days for 100-5000pcs
9) Packaging: Each into a free poly bag
10)Payment Terms: T/T Western Union PayPal