The mouse is a rodent of the murine family and is the fastest-growing and highly viable animal in mammals. Mouse are one of the most primitive mammals in existence. They are vigorous, large in number and fast in reproduction. They have strong adaptability and eat almost everything. They love food, peanuts, melon seeds, cereals, rice, and potatoes. Can live anywhere. Globally except Antarctica. Sewers, toilets, kitchens, fields, grass, eaves, etc.
Mouse can make holes, tree, and spread plague, epidemic hemorrhagic fever and other diseases. But mice have provided countless drug experiment data. Like humans, mice also use facial expressions to express their feelings of discomfort. When they feel pain, their eyes are lifted, their cheeks bulge, their ears are back, and the beards gather together or stand up. The mouse has poor eyesight, myopia, and the tentacles are "guide blinds", like running along the wall. The intelligence of the mouse is beyond our imagination, and the intellectual maturity seems to rival us. The mouse is very clever, very mysterious, almost like a human.
This normal and common animal also can be making a enamel pins. Here is the mouse lapel pins: he has the human action, take a bottle of coffee, give a thumbs-up gesture and said"nice coffee". Black hair with pink ear, white tooth. Seems his tail hurt. The big purple background. Here are more animal pins:
cat pins
and
fat cat pins
.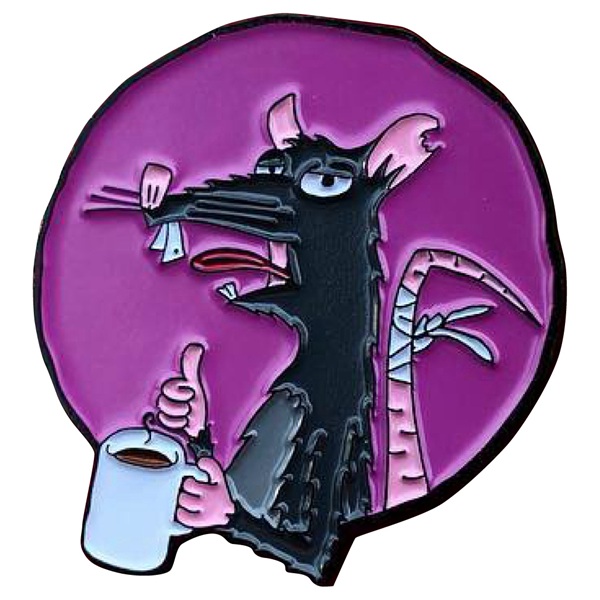 Here is the details:
1) Mouse lapel pins
2) Material: Iron/bronze/zinc alloy
3) Size: 1.25" or custom size
4) Attachment: Butterfly clutch or rubbers (black,yellow or red)
5) Production process: Die struck-polishing-black spray-soft enamel
6) Minimum order: No Minimum (No MOQ)
7) Sampling time: 7 days
8) Delivery time: 10-15 days for 100-5000pcs
9) Packaging: Each into a free poly bag
10)Payment Terms: T/T Western Union Paypal