Cats, feline belonging, separation cats, wild cats, is the world's wider family pet. Domestic cat ancestors presumably comes from the ancient Egyptian desert cat, Persian cat, have been domesticated 3,500 years. General cat: round head, short facial, five fingers forelimbs, hind legs four toes, toe with sharp, curved claws can be retractable. Nocturnal moving. Way to ambush hunting other animals, most of them can climb a tree. Cat's toe pads bottom fatty substance, so as not to make noise when walking, do not stampede when hunting mice. When traveling in a contracted state paws, claws are blunt to prevent, hunt rat and climbing will be stretched out.
Cats have many sorts, is the natural enemy of mice. Yellow, black, white, gray and other colors; physique like fox, looks like a tiger, hair soft but teeth sharp, (there are nearly hairless breed). In short tail length waist, such as gold and silver, and more preferably on the palate rib eye. Body size, looks cute, curiosity.
Here is the cat lapel pins: zinc alloy material with gold plating, hard enamel all colors. Black body, white teeth, nose and blue ear. The tail is up looks like he is get angry, or suffering attack. He need to protect or scare the attacker. Here are more animal pins:
dog lapel pins
,
Snake Lapel Pins
and
dove lapel pins
.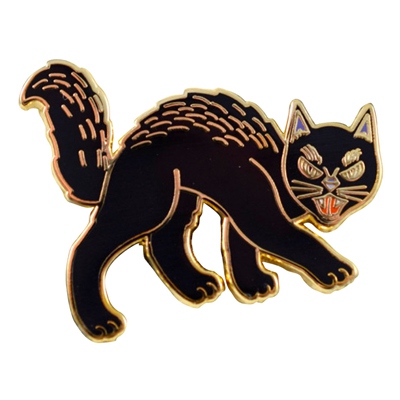 Below is the detailed specification:
1) Cat lapel pins
2) Material: Zinc alloy
3) Size: 1.5" or custom size
4) Attachment: Butterfly clutch
5) Production process: Die casting-polishing-plating
6) Minimum order: No MOQ
7) Sampling time: 7 days
8) Delivery time: 10-15 days for 1000-5000pcs
9) Packaging: Each into a free poly bag
10)Payment Terms: T/T, Western Union, Paypal