Dog is the lovly and smart animal loved by millions of people.It can give you many happy time when you stay with them.Give the mildness in lonely time.They are human's friend,also one of us.Every country are liked them very much.Many families are have one or more.
Humans would also have derived enormous benefit from the dogs associated with their camps.For instance, dogs would have improved sanitation by cleaning up food scraps."The most widespread form of interspecies bonding occurs between humans and dogs" and the keeping of dogs as companions, particularly by elites, has a long history.Also,dogs photo or picture are used many products in our life.Here we introduced dog lapel pins for you.
This dog lapel pin is printing pin. One big dog head on the top. And some words below: "NO DRUGS!" "Auran Aallot 90,5" "TULLI" and some words I don't know. Simply it's a recognition lapel pin cute with sports trading pin. Remind people far away from drugs.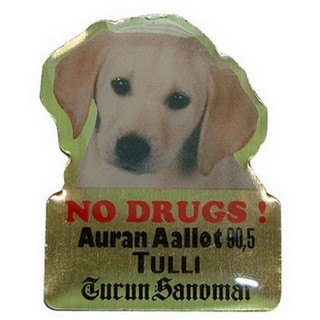 Below is the detailed specification:
1) Dog lapel pin
2) Material: Stainless iron
3) Size: 30x40mm or custom size
4) Attachment: Butterfly clutch
5) Production process: Printing-cutting
6) Minimum order: No MOQ
7) Sampling time: 4 days
8) Delivery time: 7-10 days for 100-10000 pcs
9) Packaging: Each into a free OPP bag
10)Payment Terms: T/T, Western Union, Paypal