Team is a community composed by employees and management, it is reasonable use of knowledge and skills of each member to work together to solve problems and achieve common goals. Elements of the team's summary of 5P, were the goal, people, location, privileges, programs. Teams and groups have some fundamental differences, the group can transition to the team.
The team is great and terrible, powerful enough to destroy the other team, terrible is different heart of the team, will be self-destructive. Goal-oriented team. Team-based collaborative. Teams need common norms and methods. Team members on complementary technologies or skills.
Here is the team lapel pins with printing process. Made with bronze printing, epoxy on surface. About three colors prinring, big logo on top and words: "Our team made excellence happen" at bottom. Square design with your logo or names on. Back can be magnete or butterfly clutch.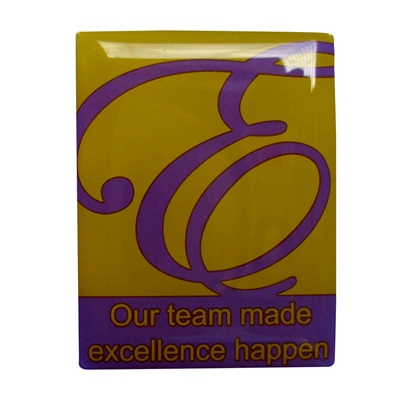 Below is the detailed specification:
1) Team lapel pins
2) Material: Stainless iron/bronze
3) Size: 1"" or custom size
4) Attachment: Butterfly clutch
5) Production process: Offset printing-epoxy
6) Minimum order: No MOQ
7) Sampling time: 7 days
8) Delivery time: 8-15 days for 100-10000pcs
9) Packaging: Each into a free poly bag
10)Payment Terms: T/T, Western Union, Paypal