The penguin known as the "Boat of the Sea" is one of the oldest birds. There are 18 species of penguins worldwide, most of which are located in the southern hemisphere. Characterized by inability to fly; short feathers to reduce friction and turbulence. Back is black and belly is white. Penguins can live and reproduce in the severe cold of -60 ℃. On land, it resembles a gentleman in a tuxedo, walks up and down, shakes and swings, encounters danger, climbs up and down, and is embarrassed. But in the water, the penguins' short wings became a powerful pair of "paddles", traveling at speeds of 25-30 kilometers per hour. You can swim 160 kilometers a day.
Portuguese sailors first discovered penguins in 1488 near Cape of Good Hope near southern Africa. But the earliest record of penguins was historian Pigafita. The largest penguin species is Emperor Penguin, which averages about 1.1 meters tall and weighs more than 35 kilograms. Penguins feed on marine zooplankton, mainly Antarctic krill, and sometimes prey on brachiopods, squid, and small fish. Penguins have a good appetite. Each penguin can eat an average of 0.75 kg of food per day.
This penguins lapel pin have the round shape, nickel silver metal plating. White enamel background color, center is the penguin printing photo. Why it can be printing, because it's the offset printing technology. Cute penguin with black feather and head. White abdomen, pink feet and mouth. Here are more animal pins in sea:
dolphin pins
and
manatee pins
.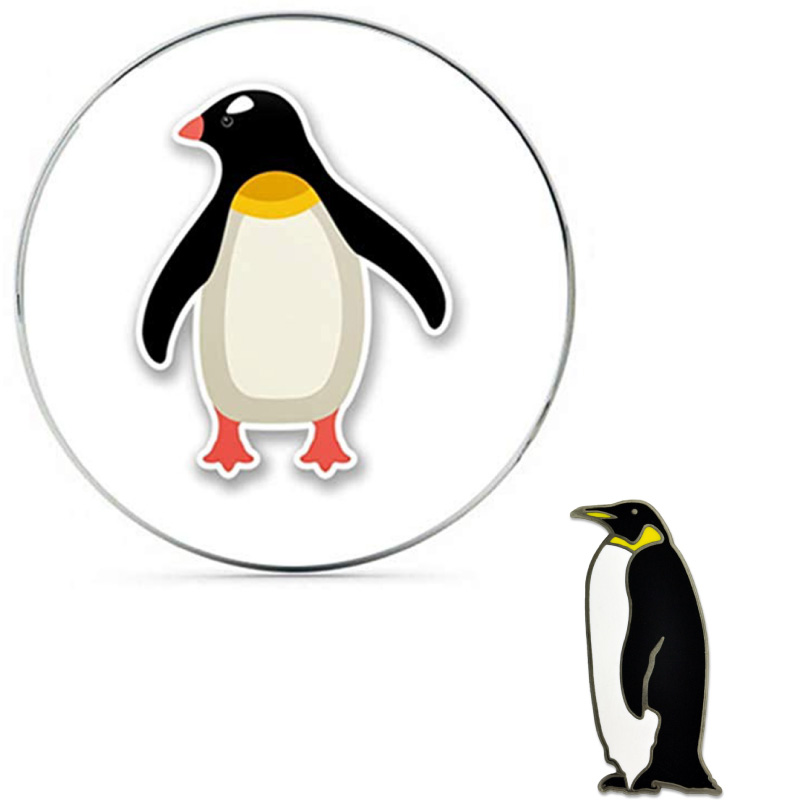 Here are the details:
1) Penguins Lapel Pins
2) Iron/Bronze/Copper/Zinc alloy/Pewter alloy
3) Size: 1.5" or custom size
4) Attachment: Rubbers or butterfly clutch
5) Production process: Die struck-nickel silver-hard enamel-printing
6) Minimum order: No Minimum (No MOQ)
7) Sampling time: 7 days
8) Delivery time: 10-15 days for 100-5000pcs
9) Packaging: Each into a free poly bag
10)Payment Terms: PayPal,T/T or Western Union