The word Gospel usually designates a written record of Christ's words and deeds.A gospel is an account, often written, that describes the life of Jesus of Nazareth. In a more general sense the term "gospel" may refer to the good news message of the New Testament. It is primarily used in reference to the four canonical gospels of Matthew, Mark, Luke, and John. Originally, the gospel was the good news of redemption through the propitiatory offering of Jesus Christ for one's sins, the central Christian message.

If you're having hard times and feel like you're hitting your head against a wall and that wall just won't move or you've come against a mountain that seems too high to cross over.God is on your side and His desire is that you would call on him, that he would be able to show you the plan He has for your life. That you would know that there is a God in heaven that cares for your every need and struggle.

This gospel lapel pins is a riders team with gospel. Established as an outreach, using motorcycles as a tool to share the Gospel, one of the recognition pins. Round on top, and nealy a triangle on bottom. Cross in the middle,means gospel.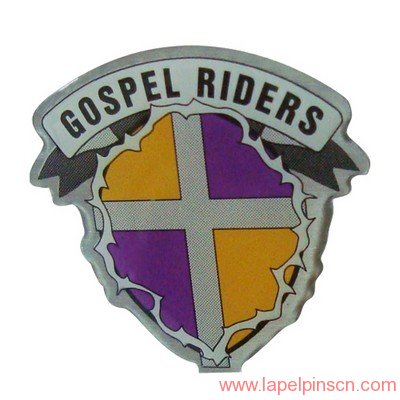 Below is the detailed specification:
1) Gospel lapel pins
2) Material:Stainless iron
3) Size: Custom size
4) Attachment: Butterfly clutch
5) Production process: Punching-printing
6) Minimum order: No MOQ
7) Sampling time: 7 days
8) Delivery time: 10-12 days for 100-10000 pcs
9) Packaging: Each into a free poly bag
10)Payment Terms: T/T,Western Union,paypal