The club is to come forward to organize by business or personal, membership in a voluntary, mutual aid and autonomy to participate on the basis of reciprocity, and the respective rights and obligations of the free associations or groups. Club culture originated in the 17th-century continental Europe and the UK (UK lapel pins). Advocating an open, free, and the spirit of equality.

Various clubs have different utility, summed up in the following. Social function: movement as the main activities of the club, you have a good social function, many people to participate in team sports in order to exercise the kind of intimate friendship and hope to have a vested more perfect. Entertainment features: an important activities of the club members is entertainment. Psychological function: the success of the club can play to meet the security, status, and social role of these three needs. Strength function: Once a person has become a member of a club, it may establish more strongly confidence, feel the collective power of the powerful.

But how to distinguish between the members of the club.? Club lapel pin will be a very good choice: a member of the motorcycle with a motorcycle lapel pin, Masonic Committee with a Masonic lapel pins, Christian with Christian lapel pin. The pin will give you a very good means of identification, so popular and easy to store, also a memorable souvenir. Following football printing pins words of : "JUNIOR","KUMU TEAM 1992" and "FOOTBALL KUUSANKOSKI". White background and blue printing color.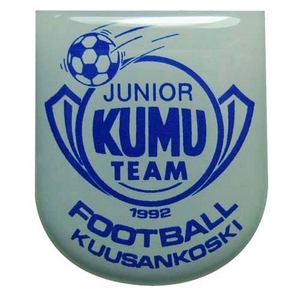 Below is the detail:
1) Club lapel pins
2) Material: Iron/Bronze
3) Size: 1" or custom size
4) Attachment: Butterfly clutch
5) Production process: Printing-cutting
6) Minimum order: 1 piece
7) Sampling time: 7 days
8) Delivery time: 10-15 days for 1000-5000pcs
9) Packaging: Each into a free oppbag
10)Payment Terms: T/T, Western Union, Paypal