Masonic is free-mason,full name of Free and Accepted Masons. Freemasonry is a fraternal organisation that arose from obscure origins in the late 16th to early 17th century. Freemasonry now exists in various forms all over the world, with a membership estimated at around six million.
Principles is Brotherly Love, Relief, and Truth. Freemasons use signs (gestures), grips or tokens (handshakes) and words to gain admission to meetings and identify legitimate visitors. Two of the principal symbolic tools always found in a Lodge are the square and compasses. This masonic lapel pin is made as soft enamel, only filled with blue color. Here introduce
religious lapel pins
and
Christian lapel pins
. Also the square and compasses design. One big "G" in the middle. Plating with anti-copper, very nice and nostalgic. You will be the freemasonry wherever you are when you wear it. At least you hope so.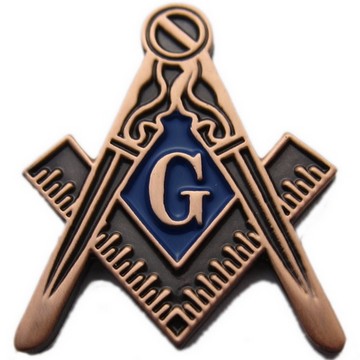 Below is the detailed specification:
1) Masonic lapel pin
2) Material: Iron
3) Size: 1"x1" or custom size
4) Attachment: Butterfly clutch
5) Production process: Stamping-cutting-plating
6) Minimum order: No MOQ
7) Sampling time: 7 days
8) Delivery time: 7-10 days for 500-1000 pcs
9) Packaging: Each into a free OPP bag
10)Payment Terms: T/T, Western Union, Paypal