Lizards are distributed all over the world. It belongs to cold-blooded reptiles. It is widely distributed in tropical and subtropical areas. It has diverse living environments, mainly terrestrial, arboreal, semi-aquatic and earthy burrows. Most eat insects, and lizards are closely related to snakes. There are many similarities between the two.
Lizards are the most diverse group of reptiles, and more than 4,000 species are known throughout the world, mainly in the tropics. Body types vary widely, from a few centimeters in the Caribbean gecko to nearly three to five meters in length. Many lizards can change their color to respond to changes or pressures in the environment, such as chameleons. Most of the species are carnivorous and feed on insects, crickets, snails, and even mice. But there are also cactus or seaweed as the main food, or omnivorous. Many lizards often break their tails when they encounter enemies or are severely disturbed. The tails are constantly beating to attract the attention of the enemy, but they themselves escape.
Here is the lizards lapel pins: whole body green colors. The back are yellow, trial have the silver metal, also the glasses. The lizard lie on the floor, left hand hold a bottle of fish. Other 5 bottles are on the floor, seems he is so enjoy this moment. So cool and also
wolf lapel pins
and
bird lapel pins
.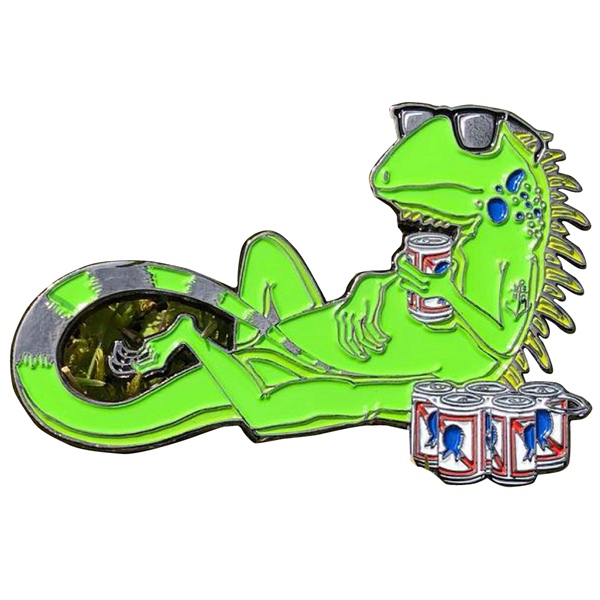 Here is the details:
1) Lizards lapel pins
2) Material: zinc alloy
3) Size: 1.25" or custom size
4) Attachment: Butterfly clutch or rubbers (black,yellow or red)
5) Production process: Die casting-polishing-silver plating-soft enamel
6) Minimum order: No Minimum (No MOQ)
7) Sampling time: 7 days
8) Delivery time: 10-15 days for 100-5000pcs
9) Packaging: Each into a free poly bag
10)Payment Terms: T/T Western Union Paypal