Bird's food is varied, including nectar, seeds, insects, fish, carrion or other birds. Most of the birds are daytime activities, and some birds (such as owls) are activities at night or at dusk.
Birds absolutely need sleep, not only sleep, but also some birds still standing on one foot to sleep. The more surprising is that people seem to be able to implement the birds "hypnosis", according to your meaning let it sleep. As long as the birdcage cover a blanket, create a dark night environment, the birds will soon fall asleep. The most interesting is that Swift in the flight also can sleep in this way. However, the birds of the seabirds is not in accordance with the law of the sun, but based on tidal rhythm to sleep.
Due to the impact of human activities, some birds are flooded around the world. For example, pigeons and crows have over-propagated urban areas in many cities around the world and become a public health problem that plagues the major cities.
Wild birds living near the airport will pose a threat to the flight safety of landing. The flying safety caused by the collision of the birds and the aircraft is called bird strike, according to statistics, the world about 7500 aircraft by varying degrees of bird hit every year, the loss of up to 10 billion US dollars. Solve the problem of bird strike can take the domesticated Raptor drive, destroy the habitat, issued a huge and horrible voice and other different ways.
Below is the birds lapel pins, it's flying in the sky. Has long beak, wings are only two colors blue and green, also with the tail. Body has little purple colors, below it's mouth is light pink colors. Center is the round white. Beak no colors only recessed metal, simple but good design with the birds lapel pins. We have
dove pins
and
duck pins
like birds pins.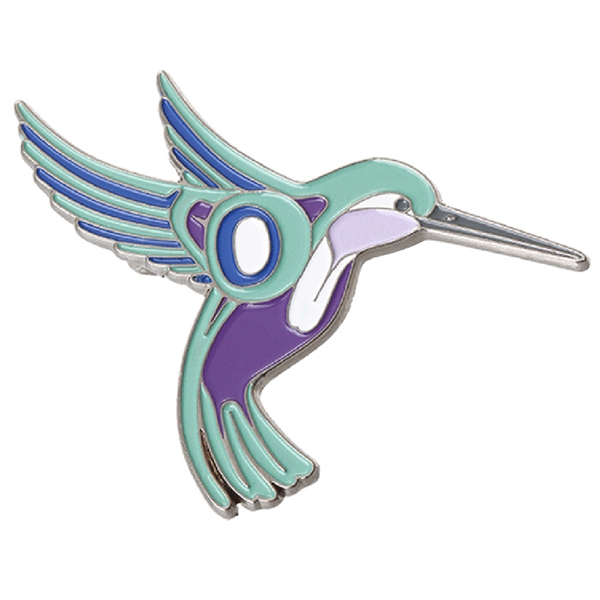 Below is the detailed specification:
1) Birds lapel pins
2) Material: Iron/bronze
3) Size: 1" or custom size
4) Attachment: Butterfly clutch
5) Production process: Stamping-silver plating-soft enamel
6) Minimum order: No MOQ
7) Sampling time: 8 days
8) Delivery time: 8-15 days for 500-10000 pcs
9) Packaging: Each into a free OPP bag
10)Payment Terms: T/T, Western Union, Paypal