Dove is the lovely bird. You must have seen dove, but do you seen or have the dove lapel pins? Here is the one: white hard enamel color and silver plating. Dove spread the wings and fly in the sky, nice shape and movement. Are you a peace man and we have the peace lapel pins. Take one dove pin stand for environmental protection, public service activities. There are many animal pins like: eagle pins, dog lapel pins and lion lapel pin.

Pigeon genus, scientific name of the Columba, the dove Division of a genus, commonly known as a dove; include a variety of medium and large pigeons, including today's common pigeon, that is, the original pigeon. The pigeons like to eat stones, with special digestive system. Bible for the first time referred to pigeons, in the first millennium of the Old Testament, it is the story of Noah and the dove of peace. Later, in the New Testament, the dove for the first time is mentioned is when Jesus was baptized, and this time the pigeons was as handed down the Holy Spirit.

The Sumerians of Mesopotamia, first began domesticated pigeons and other wild pigeons, now in many cities and towns, we can see the different colors of flock flew. At the same time as the pet of the gods, the pigeon by a widely respected and sacrosanct. In the entire history of mankind, pigeons played a considerable role, from a symbol of God's sacrificial victim, messengers, pets, food or even a war hero. They are good at flying. The plumage color of rain, gray, black, purple and white variety. Foot short, short, short beak. Eat cereals for grain and insects.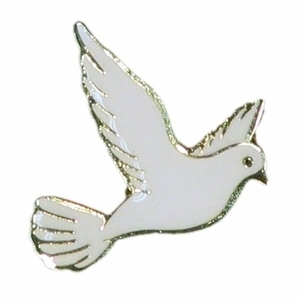 Below is the detailed specification:
1) Dove flag pins
2) Material: Iron/bronze
3) Size: 1" or custom size
4) Attachment: Butterfly clutch
5) Production process: Stamping-plated-enamel
6) Minimum order: No MOQ
7) Sampling time: 7 days
8) Delivery time: 10-18 days for 1000-5000pcs
9) Packaging: Each into a free poly bag
10)Payment Terms: T/T, Western Union, Paypal