Pythons is a large reptile. The maximum body length is about 3.5 meters. There is a dark brown spear spot on the back of the head and neck. There is a black vertical spot on the head side. The head is yellow-white on the ventral surface, and the back is tan, taupe or yellow. The back and sides are large. The block is black with a clouded leopard-like marking. It's a big big snake (
snake pins
), I'm sure.
Pythons inhabit tropical and subtropical low mountain jungles. Good climbing, lethargy, nocturnal, omnivorous predation often crawls close to the prey, quickly bite and then entangled with the body, and squashed into a strip, the whole swallow. Can eat goats, deer, crickets, pigs and other animals, often eat rodents, birds, reptiles and amphibians. Except for the animal hair of the hunting, it can be digested, but it can be eaten for several months after eating, and hibernating for 4-5 months. The species is distributed in Asian countries such as China, India, Cambodia, Laos, Myanmar, Nepal, Thailand, and Vietnam.
Here are two pythons lapel pins: top one is the colorful like
rainbow pins
, his body curled up like living in a house. Beautiful skin and head center wear a yellow crown with colors bones. Bottom one is a python pin more like the real one. Black, white and orange skin, red eyes with red tongue.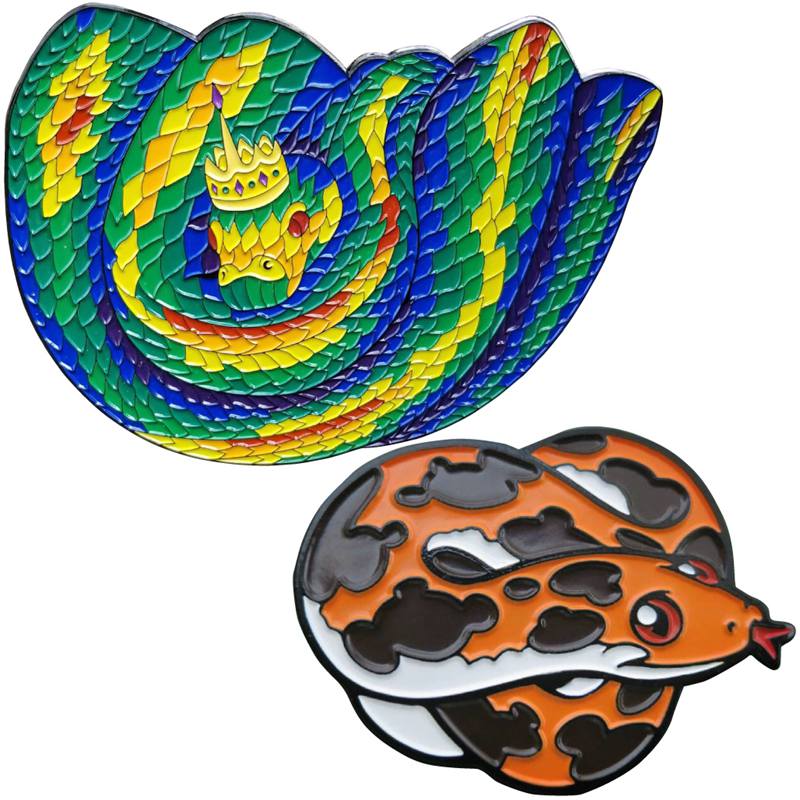 Here is the details:
1) Python lapel pins
2) Material: Iron/bronze/zinc alloy
3) Size: 1.25" or custom size
4) Attachment: Butterfly clutch or rubbers (black,yellow or red)
5) Production process: Die struck-polishing-black metal-soft enamel
6) Minimum order: No Minimum (No MOQ)
7) Sampling time: 7 days
8) Delivery time: 10-15 days for 100-5000pcs
9) Packaging: Each into a free poly bag
10)Payment Terms: T/T Western Union PayPal