Snakes are reptiles limbs degradation in general, it belongs to Reptilia snake head. Like all reptiles, scales covered with snakes.
All snakes are carnivorous animals. The current global total of more than 3,000 different snakes.
Slender body, limbs degraded, no activity eyelid, no ears, no limbs, the body surface is covered with scales.
Snakes are cold-blooded animal, body temperature lower than humans, also known as cold-blooded, when the ambient temperature is below 15 ℃, the snake goes into hibernation.
Below is the snake lapel pin, made with zinc alloy material, gold plating with hard enamel. The snake shape rounded and the tongue out of it's mouth. Look like standing and attack something or protect itself. Very vividly and nice. The broken heart on back, left and right are half. Here is the
heart lapel pin
. Also have many animal pins on our website:
Peacock Lapel Pins
,
Dove Lapel Pins
.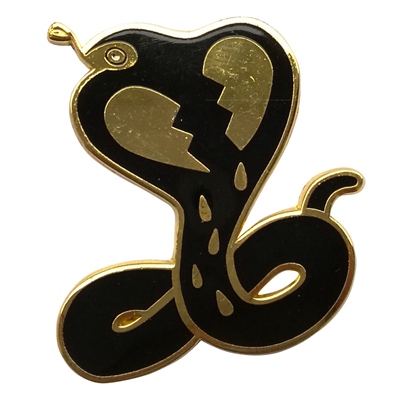 Below is the detailed specification:
1) Snake lapel pin
2) Material: Zinc alloy
3) Size: 1.5" or custom size
4) Attachment: Gold butterfly clutch
5) Production process: Die casting-plating-hard enamel
6) Minimum order: No MOQ
7) Sampling time: 7 days
8) Delivery time: 10-15 days for 1000-5000pcs
9) Packaging: Each into a free poly bag
10)Payment Terms: T/T, Western Union, Paypal