Heart is the hurman organ,that is responsible for pumping blood throughout the blood vessels by repeated, rhythmic contractions. So we used it with red always. Red heart has lots of meaning, such as love, loving heart, mercy. These are the good things, heart is the lovely liked with many person.

You can see this shape in many place, market, kindergarten, park and so on. It is given some good signal for you. Some is the regular design, other is not. Will be a little change, naughty heart, unique heart or two-three more hearts. People will take it with lapel pin. Just heart lapel pin, heart keychain can be "Show your love" anytime for valentines day.

This custom heart lapel pin made up with iron. Plating with bronze (also fish lapel pin), matt embossed. Middle of words "MUSKETEERS Finland". And two swords at edge, powerful and strong. More safety than common number lapel pins.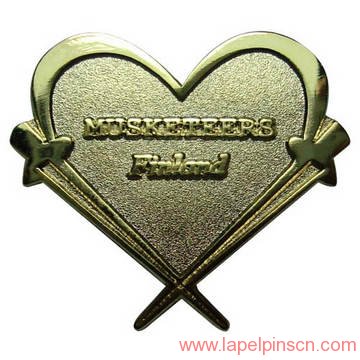 Below is the detailed specification:
1) Heart lapel pin
2) Material: Iron
3) Size: 1"x1" or custom size
4) Color: Bronze plating
5) Production process: Die struck-plating
6) Minimum order: No MOQ
7) Sampling time: 7 days
8) Delivery time: 8-15 days for 100-5000 pcs
9) Packaging: Each into a free poly bag
10)Payment Terms: T/T, Western Union, Paypal