A five-pointed star is a star pattern with five sharp corners and five straight lines. English "pentagram" for the Greek in the πεντ? Γραμμο ? There are five horns of the star. Five-pointed star has the meaning of "victory". By many countries the army as the officer's rank mark use. Also often used in the banner.
There are many national flag design includes five-pointed star: such as Ethiopia, Morocco, Vietnam, North Korea, the People's Republic of China, the United States and so on. Very often, the middle of the five-pointed star is filled, removing the boundaries between the pentagon and five isosceles triangles. Ivan Sache pointed out that the five-pointed star on the Moroccan flag represents the connection between God and Morocco. In the Oriental civilization of the Yin and Yang and the five elements inside, the five elements of the line is exactly the same five-pointed star. In Japan, five-pointed star is considered to be Abe Seimei's platycodon.
This five-pointed star pins is made with zinc alloy, thickness about 5mm. All are gold polishing shinny metal. Back with one butterfly clutch, front with "A" centered and little small circle around. Like a star and very energetic when you wear it. Here are more pins about star:
military star lapel pins
and
political lapel pins
.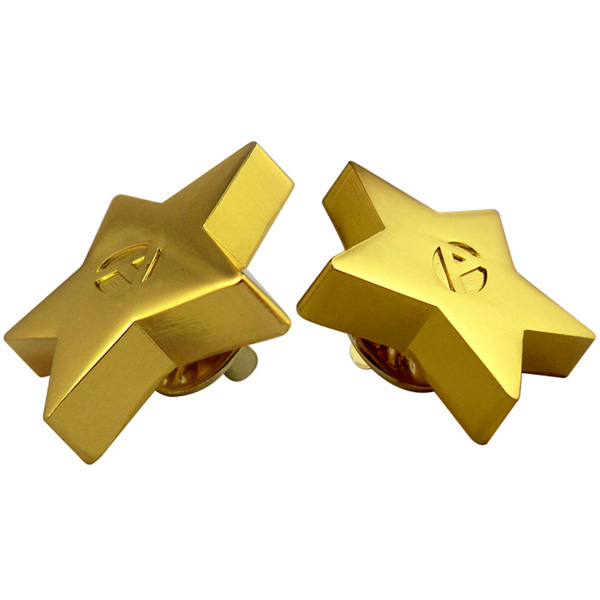 Below is the detailed specification:
1) Five-pointed star pins
2) Material: zinc alloy
3) Size: 1" or custom size
4) Attachment: Butterfly clutch
5) Production process: Die casting-plating
6) Minimum order: No MOQ
7) Sampling time: 7 days
8) Delivery time: 12-18 days for 1000-5000pcs
9) Packaging: Each into a free poly bag
10)Payment Terms: T/T, Western Union, Paypal