In the agricultural society, the shit can be used as a fertilizer, so in the city, every night there will be a collection of each household in the barrel of the feces. But in the industrial society, with chemical fertilizers, and manure health problems, so that the impression of feces greatly reduced. But the past four decades, the rise of environmental protection movement, poultry manure and other fermentation made of buried fertilizer and organic food has been welcomed by the community.
Shit is part of the food residue not absorbed. The digestive tract passes through the large intestine and excreted from the anus in the form of feces. Feces with some of the smell, at the same time, some shit also with a certain medicinal effect.
Normal defecation is very different, which is related to individual differences, living habits, especially eating habits. Normal shit are alkaline. Fecal stool is a method of body examination, health examination, to understand the patient's internal organs and digestive system health status, such as found fecal blood, indigestion and so on.
Very interesting knowledge about the shit. Do you know shit lapel pins: here it is. Round shit one by one and top is sharp, gold plating with raised metal. Sandy effect with recessed metal, simple metal line and shape. One of
die struck pins
with no colors filled. Just the metal.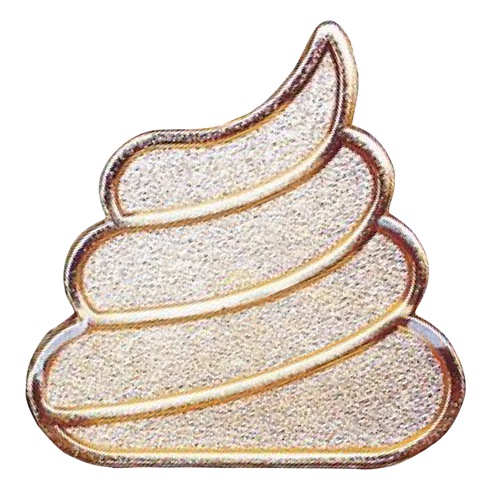 Below is the detailed specifications:
1) Shit lapel pins
2) Material: Iron/bronze
3) Size: 1" or custom size
4) Plating: Gold
5) Production process: Die struck-plating-painting
6) Minimum order: No MOQ
8) Delivery time: 8-15 days for 100-10000pcs
9) Packaging: Each into a free poly bag
10)Payment Terms: T/T, Western Union, Paypal