Fighters is used in the air to eliminate enemy aircraft and other flying air raids of military aircraft, also known as warplane. The main task of the fighter is fight with the enemy fighter, to seize the air superiority (air supremacy). Followed by intercepting enemy bombers, attack aircraft and cruise missiles, but also to carry a certain number of ground attack weapons, the implementation of ground attack task. Fighter aircraft include air defense with the interceptor, fighter aircraft is the main air combat operations, can also be used to perform ground attack task. Military aircraft, including fighters, attack aircraft, bombers, reconnaissance aircraft.
Fighter is generally single seat. In order to expand the driver's horizon, the use of blister-shaped cockpit, aircraft operating system widely used in digital telex based on the use of active control technology to improve the combat performance of the aircraft.
The fifth generation of fighters was invisibility unmanned aerial vehicles. Compared with the four generations of machines, the five generations of machines through the full-wing body fusion and large lift resistance design, so that the aircraft in a variety of height, a variety of gestures under the stealth and mobility have been very good balance. If the four generations of machines is based on information systems, then the five generations of machines is based on the Internet of things. To achieve a real sense of the land, sea, air, days, electricity, network integration, to achieve a cross-Internet interoperability based on the Internet of things.
The fighter plane lapel pins is similar to the real one, shape even the lines. Top aeroplane nose round with 3D design, similar as the
eagle lapel pins
, center is a area cut out is the place where aviator stay. Back have small four guided missiles. Two sides are big wing flying in the sky.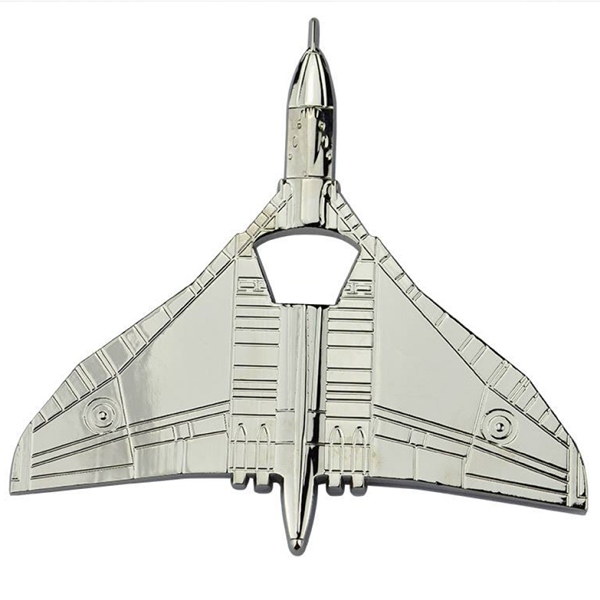 Below is the details:
1) Fighter plane lapel pins
2) Material: Zinc alloy/Pewter alloy
3) Size: 1.25" or custom size
4) Attachment: Butterfly clutch or rubbers
5) Production process: Die casting-polishing-silver plated
6) Minimum order: No MOQ
7) Sampling time: 7 days
8) Delivery time: 10-15 days for 100-5000pcs
9) Packaging: Each into a free poly bag
10)Payment Terms: T/T, Western Union, Paypal