Lion is a survival of big cats in Africa and Asia, the average weight of the largest extant cats, also the only different male and female of cats is the world. "King of the prairie" in the title, is the top of the feline predators in Africa. Wild African lion average weight of 240 kg, a total length of up to 3.2 meters.
Live in savanna and grassland, also appeared in the bushes and dry forests. Meat, often ambush way to kill other warm-blooded animals. Distributed in the grasslands of Africa, Asia and India. In the wild lions live 10-14 years in captivity live longer, generally up to twenty years. There are many lapel pins about lions, most famous is the Lion Club lapel pin.
Here is the pure lion lapel pin: whole lion with one pin,3D design all of the lion. Made with zinc alloy and gold plating,nice gold color and smooth surface. The hair on the heard is one by one, very reality.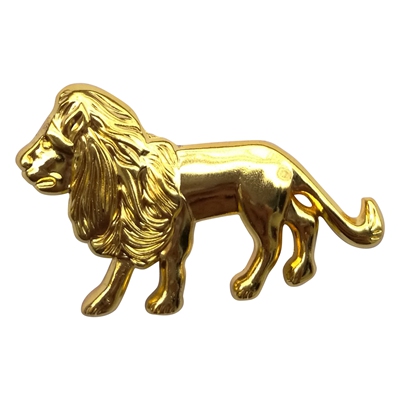 Below is the detailed specification:
1) Gold Lion lapel pin
2) Material: Zinc alloy
3) Size: 1.5" or custom size
4) Attachment: Gold butterfly clutch
5) Production process: Die casting-plating
6) Minimum order: No MOQ
7) Sampling time: 7 days
8) Delivery time: 10-15 days for 1000-5000pcs
9) Packaging: Each into a free poly bag
10)Payment Terms: T/T, Western Union, Paypal