The earliest alphabet is a combination of early hieroglyphs used by the East Sumite, which appears between 1700 and 1500 BC. In the year 1000 BC there were four other letters, developed by the letters of the East Sumite, the letters used by the West Sumite, the Canaan alphabet , Alam letters and Greek letters. The Roman alphabet, derived from the Greek alphabet about 500 BC。 All the Western European languages ​​(including Irish, Dutch, French, German and other languages) until 2015.
That is, English based on the letters, a total of 26. Modern English letters are completely borrowed from 26 Latin letters. The so-called "Latin alphabet", is the ancient Roman characters used by the letter.
Each letter in the Latin alphabet begins with a picture of a certain animal or object shape, and these pictures finally evolve into symbols. No one can be sure that these pictographic letters originally represent what. It is generally believed that the Greek alphabet is all the letters of the West, including the ancestors of the Latin alphabet. In fact, the letters of the Greeks borrowed from the Phoenicians. About 3000 years ago, in the Phoenician alphabet letters A read aleph, write the letter V, the middle plus a horizontal, on behalf of the bull or horns. After the Greeks wrote it backwards. For the ancient Phoenicians, cattle means that wealth, food, wear, farming are indispensable to it. This is perhaps the reason A is listed as the first letter.
This alphabet lapel pins is made with zinc alloy with many cut outs, words:"Vee Dub". Only metal color with antique silver, one of no colorful pins. Making them connected each other and cutout well. Small holes must be diameter bigger than 2mm, or will be cut out front, but not back. This alphabet need polished well for great looking. Other metal pins are:
number lapel pins
and
V lapel pins
.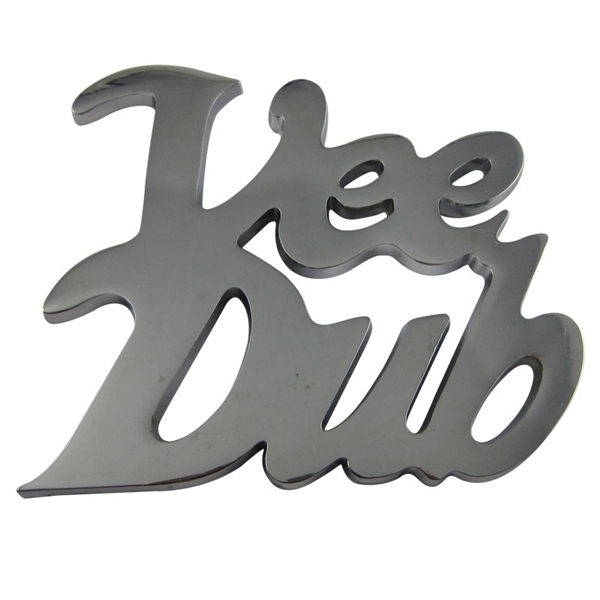 Below is the detailed specification:
1) Alphabet lapel pins
2) Material: zinc alloy
3) Size: 1.5" or custom size
4) Color: antique silver plating
5) Production process: Die casting--polishing--plating
6) Minimum order: No MOQ
7) Sampling time: 7 days
8) Delivery time: 8-15 days for 100-5000 pcs
9) Packaging: Each into a free poly bag
10)Payment Terms: T/T, Western Union, Paypal