Gold lapel pins (solid gold) can be found in a variety of places ranging from jewelry stores to auction sites like eBay on the internet. It can be the real gold pins or just palting gold on surface. Also called gold lapel pins,who cares?

If the real one so man gold enthusiasts collect the solid gold lapel pin as the investing way with a hobby. The market of gold are changing fast, most time it's increasing. The price is $1659 per ounce on 07/10/2011. From Oct 2001 to Oct 2011, price is $285 to nearly $1900 per ounce. That's the terrible rise in ten years. Any countries or regions are fond of invest gold. Gold is shinny and soft metal, here are some gold items: gold lions lapel pins and where to buy gold coins.

And gold lapel pins is the metal crafts with gold. It's more valuable than gold. Especially the rare one. Below is not the real one, only similar color with it. This metal lapel pin can made with iron, bronze or brass. A little round of triangle.Matt with debossed metal. All metal feeled around as eagle lapel pins or pewter lapel pins.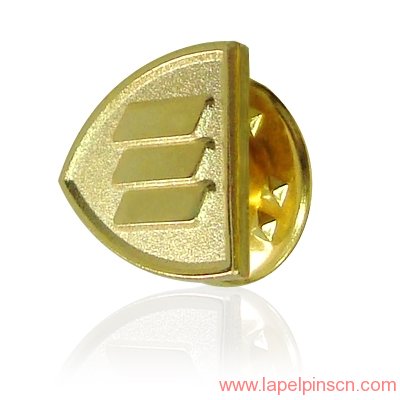 Below is the detailed specification:
1) Gold lapel pin
2) Material:Bronze
3) Size:12mm or custom size
4) Plating color: Gold
5) Production process:Stamping
6)Attachment:Butterfly clutch
7) Minimum order: No MOQ
8) Sampling time: 6 days
9) Delivery time: 7-15 days for 100-5000 pcs
10) Packaging: Each into a free poly bag
11) Payment Terms: T/T,Western Union,paypal