Badminton is a indoor and outdoor can carry out sports. According to the number of participants, can be divided into singles and doubles, and the emerging 3 to 3. Badminton racket by: face, shoot the rod, the handle and shoot the frame and the connection rod form. A racket length of no more than 680 mm, of which the racket handle and racket rod length of not more than 41 cm, the frame length of 28 cm, a width of 23 cm, with the development of science and technology, the racquet toward the development of lighter weight, More rigid frame, the better flexibility to shoot the direction of rod.
Modern badminton originated in the
United Kingdom
. In 1873, in the town of Badminton, Glasgow, England, a Duke man named Baofute started his first sport in his territory, and badminton can be made of natural materials, man-made materials, or a mixture of them. As long as the flying performance of the ball is similar to the performance of a ball made of natural feathers and cork balls wrapped in sheepskin. Badminton should have 16 feathers fixed in the ball care department.
Here the badminton lapel pins have the similar design as the real badminton, top are the feather, beautiful line from top to bottom. Base is the round, whole pins are gold metal with little 3D design. Here is the
lions lapel pins
also 3D gold.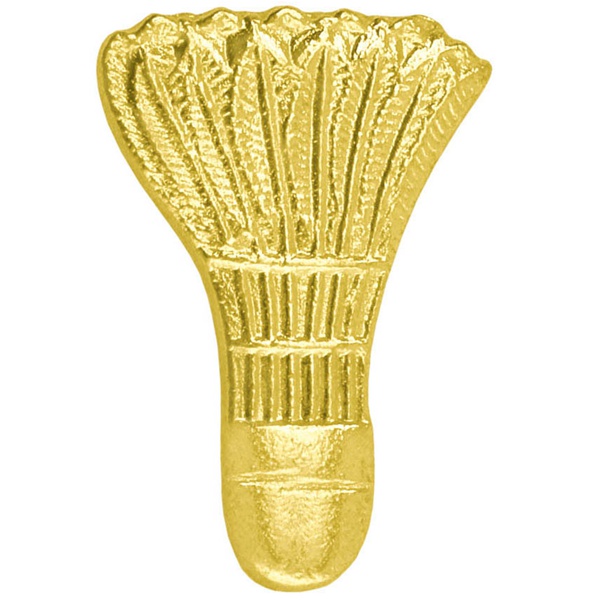 Below is the details:
1) Badminton lapel pins
2) Material: Zinc alloy
3) Size: 1.25" or custom size
4) Attachment: Butterfly clutch or rubbers
5) Production process: Die casting-polishing-gold plating
6) Minimum order: No Minimum (No MOQ)
7) Sampling time: 7 days
8) Delivery time: 10-15 days for 100-5000pcs
9) Packaging: Each into a free poly bag
10)Payment Terms: T/T, Western Union, Paypal