United Kingdom full name is The United Kingdom of Great Britain and Northern Ireland, composed of England, Scotland, Wales and Northern Ireland United Kingdom. It is the world's first industrialized countries, is the world's most powerful country in the 19th century and early 20th century. Capital London is Europe's largest and most international city.
The British flag is horizontal rectangle, the length and width ratio of 2:1. "米" flag, dark blue background and red and white "米" word in Chinese. Are cross with the white side of the red in the flag on behalf of England's patron saint St. George, a white cross – cross on behalf of Scotland's patron saint St Andrew, Red Cross Cross on behalf of the Irish patron saint Patrick. This flag was produced in 1801, is a former England are 10 white red flag, overlap from Scotland blue and white cross-cross flag and white with red cross in Northern Ireland Cross flag.
This United Kingdom flag pin is a flying flag. Basic design with normal flag and a little flagpole at left. Gold plating and all color with man hand filled soft enamel. Differently with England and American flag pins. Same as Australian flag pins and United States flag pins.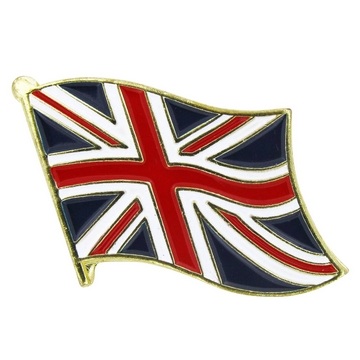 Below is the detailed specification:
1) United Kingdom flag pins
2) Material: Iron/brass
3) Size: 25x19mm or custom size
4) Attachment: Butterfly clutch
5) Production process: Die struck-plating-enamel
6) Minimum order: No MOQ
7) Sampling time: 7 days
8) Delivery time: 8-15 days for 100-10000pcs
9) Packaging: Each into a free poly bag
10)Payment Terms: T/T, Western Union, Paypal