Pink ribbon breast cancer prevention and control activities as the world's recognized logo for publicity early prevention, early detection, early treatment of this information, footprints in dozens of countries around the world. Governments also set the annual October for Breast Cancer Prevention month.

Pink ribbon lapel pin general design as a promotional logo. Women's groups to communicate, to achieve the purpose of publicity. Simple, stylish design.It is a volunteer lapel pin.

Pink women to fully convey the gentle and understanding, so that the whole society to join the ranks of attention to women in the prevention and treatment of breast cancer to. No gimmicks to show off, no eye-catching. Only in promoting the disease and care of women, the contribution to the lapel pin should have power. Here is the awareness ribboon pins.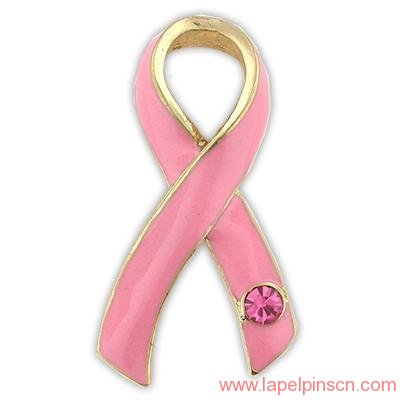 Below is the detailed specification:
1) Female Pink Ribbon lapel pin
2) Material: Zinc alloy
3) Size:28x15mm or custom size
4) Plating color: Gold
5) Production process: Casting-plating-soft enamel
6) Minimum order: No MOQ
7) Sampling time: 8 days
8) Delivery time: 8-15 days for 500-10000 pcs
9) Packaging: Each into a free OPP bag
10)Payment Terms: T/T, Western Union, Paypal