How we understand the USA lapel pin, made or use in USA? May be used with USA people only. It's definitely, lapel pin is popular in USA, American are like wear it on clothes. Collecting is becoming a fashionable job. When you have many kinds of lapel pins, different years and series. Also many technology, material, national, industry. Last year in 2010 shanghai World Expo, we called the lapel pin "da ren". Means who know and have many beautiful lapel pins of different country and exhibition center.

It is popular in China on that moment. But with difference culture, it hard to form some scale at a time. But it's a long story with lapel pin in China. Even though it isn't called lapel pin. Strictly, we make the first one in Qing dynasty since 1863.

Also,USA lapel pins are made lots of style. Flag pin is the most famous one. Below is one of it. This US Flag Pins looks like waving, more complex than the simple one. Also design of US flag.Color of blue, red and white. Plated with gold. Technology of soft enamel same as American flag lapel pins.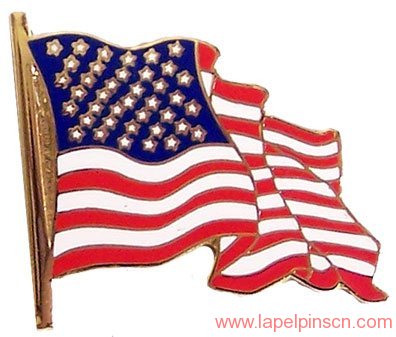 Below is the detailed specification:
1) USA lapel pin
2) Material: Iron/bronze
3) Size:28x15mm or custom size
4) Attachment: Butterfly clutch
5) Production process: Stamping-plating
6) Minimum order: No MOQ
7) Sampling time: 8 days
8) Delivery time: 8-15 days for 500-10000 pcs
9) Packaging: Each into a free OPP bag
10)Payment Terms: T/T, Western Union, Paypal