Ribbon is wear on neck,and soft around fold.It's attract attention when someone want others know it.Especially organization,like disease,public good,environmental protection,agriclture,industry,business whatever you know.That's can be take the awareness ribbon.
So,all these nongovernmental organis are can have their unique logo.And most easy way is making the awareness ribbon pin.One pin,one name.Putting your brand,name or shape on lapel pin.Small pin to let people know what and how you are doing.so simple as pink ribbon lapel pins.

This awareness ribbon pin color of green.And it's the Greenpeace or Green Initiative.Shape of Chinese "又",process of soft enamel and with some glitter.A little similarity with glitter trading pins.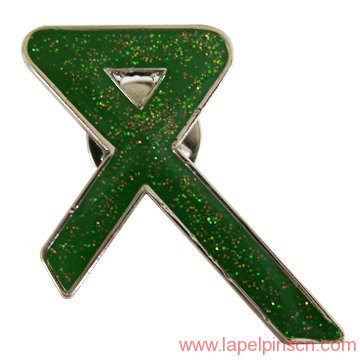 Below is the detailed specification:
1) Awareness ribbon pins
2) Material: Zinc alloy
3) Size:30x25 mm or custom size
4) Attachment: Butterfly clutch
5) Production process: Stamping-nickel plating
6) Minimum order: No MOQ
7) Sampling time: 8 days
8) Delivery time: 7-10 days for 500-1000 pcs
9) Packaging: Each into a free OPP bag
10)Payment Terms: T/T, Western Union, Paypal