Military aircraft are the general term for aircraft that directly participate in combat operations, combat operations and military training. is the main technical equipment for aviation . Mainly include fighter planes, bombers, fighter-bombers, air-to-air bombers, air fighters, attack planes, battlefield surveillance aircraft, anti-submarine patrol aircraft, helicopter gunships, special operations aircraft, reconnaissance aircraft, AWACS, electronic warfare planes, seaplanes, military transport planes, Air tankers and trainers. The large number of aircraft used in combat, the war developed from plane to three-dimensional space, has a significant impact on strategic tactics and army formation.
In 1909, the United States (
USA lapel pins
) Army equipped the first military aircraft with a 30-horsepower engine and a maximum speed of 68 km / h. The same year made a two-seat Wright A-type aircraft, used to train pilots. Military aircraft mainly by the body, power plant, landing gear, control systems, hydraulic pressure systems, fuel systems and other components, and airborne communications equipment, pilot equipment and life-saving equipment. Directly used in combat aircraft, as well as airborne fire control systems and electronic warfare systems.
Here the military aircraft lapel pins, 3D silver design as other two pins:
airplane lapel pins
,
fighter plane lapel pins
. The long body with two sides wings, each are have two propeller, these are the power source, most important part in plane. Like the engine in the cars. Center is the part for bottle opener, where can open bottle like beer.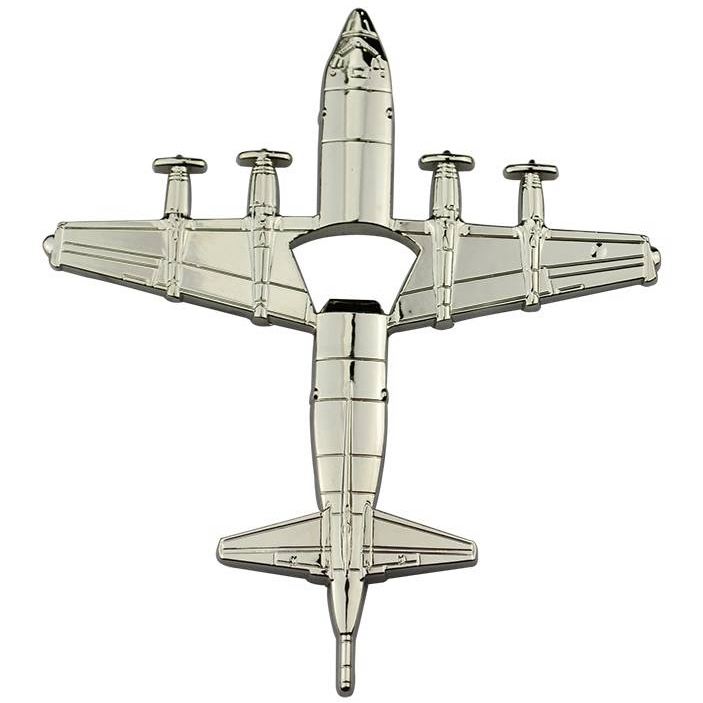 Below is the details:
1) Military aircraft lapel pins
2) Material: Zinc alloy
3) Size: 1.5" or custom size
4) Attachment: Butterfly clutch or rubbers
5) Production process: Die casting-polishing-silver plating
6) Minimum order: No Minimum (No MOQ)
7) Sampling time: 7 days
8) Delivery time: 10-15 days for 100-5000pcs
9) Packaging: Each into a free poly bag
10)Payment Terms: T/T, Western Union, Paypal