Lapel pins making with metal normally. It's called metal lapel pin in the past, because of metal is the only material. Such as gold, silver, bronze, copper, iron. Aluminium, stainless steel, stainless iron ,zinc alloy and tin alloy join in later. And the craftmanship are singleness, hand-made and photo etched at first. Then die struck pins equipment introduce from abroad 40-60s years last century. Improved the productivity and efficiency.

In modern times more technology and material are used in lapel pin manufacturer industry. Like die casting, anodic oxidation and all kinds of new process in every making step. It's more faster in producing and reduce the production and cost. Chinese lapel pins have more competitiveness in worldwide.

This custom metal lapel pin made with bronze. Stamping then gold plating, looks like gold lapel pin no other skill. Design of one square, divide with two triangles. One plate the other matt in debossed metal. Simple but looks luxurious, for it's good quality.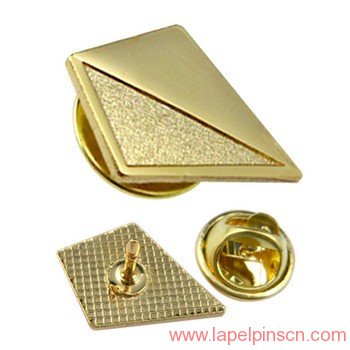 Below is the detailed specification:
1) Custom metal lapel pin
2) Material: Bronze
3) Size:15 x 10mm or custom size
4) Attachment: Butterfly clutch
5) Production process: Die struck-cutting-plate
6) Minimum order: No MOQ
7) Sampling time: 6 days
8) Delivery time: 7-15 days for 100-5000 pcs
9) Packaging: Each into a free OPP bag
10)Payment Terms: T/T, Western Union, Paypal