Lapel pin manufacturers are all over the world,some trading company also called then the manufacturer.Most of them based on Asia,such as China,Korea,India or China TaiWan.In China,especially along with the coastal city.Like Guangdong,Zhejiang,Jiangsu province,city of Dongguan,Foshan,Zhongshan,Cangnan,Wenzhou,Kunshan etc.

These are the biggest lapel pin market in China.All of it need the plating factory.Less big factory have the plating factory.Many of them are the out plating with others.It raised the cost,also improve the date with production.Another truth is only one town in Dongguan,there would be more than 500 big or small lapel pin manufacturer.So how to choose the best and responsible the factory?Better price and pretty quality is the customers' target.Also fine service and quick delivery time.And lapel pins CN is one of the best lapel pins manufacturer,also challenge coin manufacturer.

This trading baseball lapel pin is made of iron.Printing on surface,epoxy to protect the pin.Words of CLEBURNE STING 2006,one big yellow bee on the photo.Very charming and handsome.Take a bat and one eye closed.So cool!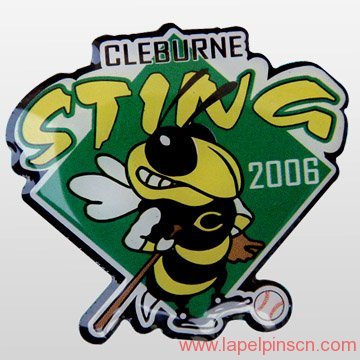 Below is the detailed specification:
1) Trading pins
2) Material:Stainless iron
3) Size: custom size
4) Plating: None
5) Production process:Printing
6) Minimum order: No MOQ
7) Sampling time: 7 days
8) Delivery time: 8-15 days for 100-10000 pcs
9) Packaging: Each into a free OPP bag
10)Payment Terms: T/T,Western Union,paypal