Hockey also known as field hockey, is one of the oldest Olympic events and the glorious project. Hockey originated in French, meaning a shepherd's stick stick. Modern hockey originated in the early 19th century England, and first became an official event at the 1908 London Olympics, become a fixed event in 1928.

Ice hockey is a variety of skating skills and agile and skilled hockey skills by combining one of the more confrontational collective ice sports, the Winter Olympics, an official event. Athletes hit the ice rod ball into the opponents' goal, more than those for the win. Ice hockey originated in the mid-19th century Canada, the most widely circulated, is also widely accepted theory is that hockey evolved from the ground hockey.

Below hockey lapel pin is the hockey goalie mask pin. Goalie mask is the door of winning and losing. Belong to soft enamel lapel pin and sports lapel pin, also trading pins. Design with the mask, red and black color. Silver plating seems real one. The same theme with NHL lapel pins.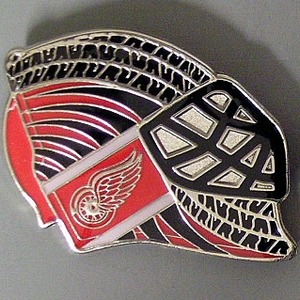 Below is the detailed specification:
1) Hockey lapel pins
2) Material: Iron/Bronze
3) Size: 3/4"x1" or custom size
4) Attachment: Butterfly clutch
5) Production process: Stamping-punching-enamel
6) Minimum order: No MOQ
7) Sampling time: 7 days
8) Delivery time: 7-18 days for 100-10000pcs
9) Packaging: Each into a free poly bag
10)Payment Terms: T/T, Western Union, Paypal