No sports,no life.Is it the adage? But sports are very significant with our body and life. So take some one week, will let you more healthy. Like running, swimming, palying ball, dancing or just kiss, are the effective exercise for you.

More movement,more loss for your doctor.And strong body will instead of sickness one. And the baseball is loved with many person. So play some baseball is the routine with many American people. And like the trading pins about baseball.

This sports trading pin is the lovely habbit. Attacking posture, use the carrot preparing to beat the baseball. One whole hare shape with cute ear and tooth. This is worth for you to have one. Words are "VA8". Same craftmanship with sports lapel pins of soft enamel.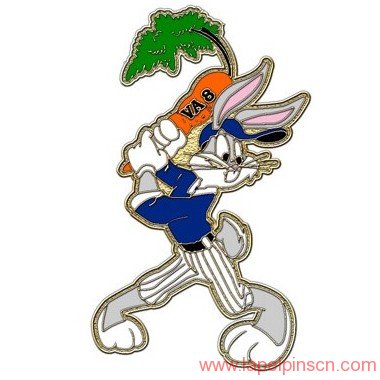 Below is the detailed specification:
1) Sports trading pin
2) Material: Iron
3) Size: 40x20 mm or custom size
4) Attachment: Two butterfly clutch
5) Production process: Stamping-nickel plating-soft enamel
6) Minimum order: No MOQ
7) Sampling time: 8 days
8) Delivery time: 8-15 days for 500-10000 pcs
9) Packaging: Each into a free poly bag
10)Payment Terms: T/T, Western Union, Paypal