Political parties are a product of class struggle, said with Marxism. It is in a class society, the politics of a certain class, the most active on behalf of common interests and a common political purpose, especially in order to achieve power and maintain the regime, in the class struggle in the formation of political organizations.
The United States is one of the countries of the world's oldest political party, is the implementation of the typical one of the two-party system. Democrats and Republicans occupy an important position in national political life. The American electoral system, parliamentary system, the system of administration and the judicial system, and the two-party system are closely linked. The United States since the 1850s established two-party system, has been by the Democratic and Republican presidential campaign turns in power.
When the voted or do something for the country. Some tips like lapel pins, keychain, promotional products will be used. Here introduce vote political lapel pin for you. Shape of a star, use the USA flag pins logo and gold plated. Top with the red and white color, big word "VOTE" filled black. Below is blue with six small gold star. Little simple with no other logo or words. Epoxy surface to protect, also Australian flag lapel pin and India flag lapel pins.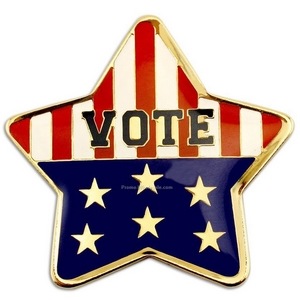 Below is the detailed specification:
1) Political lapel pins
2) Material: Iron/bronze
3) Size: 1"x1" or custom size
4) Attachment: Butterfly clutch
5) Production process: Die struck-plating-soft enamel
6) Minimum order: No MOQ
7) Sampling time: 7 days
8) Delivery time: 8-15 days for 100-10000pcs
9) Packaging: Each into a free OPP bag
10)Payment Terms: T/T, Western Union, Paypal