In 1680, the famous British scientist Newton envisioned a jet automobile scheme that used nozzles to spray steam to propel the car (car lapel pins), but failed to make it. 1885 was a year in which automotive inventions made a decisive breakthrough. Bentz, who was at the same factory as Daimler, was also studying cars. In 1885, he was almost a gasoline engine with Daimler. He was loaded on a automobile and was driven at a speed of 12 kilometers per hour. This year, the British Butler also invented a car with a gasoline engine. In addition, Bernard of Italy also invented the automobile, Russia's Puchlov and Volopov invented the car with the internal combustion engine. Automotive designers have begun to improve from the exterior of the car, and have introduced concepts such as aerodynamics, fluid mechanics, ergonomics, and industrial design (industrial aesthetics).
Mainstream automobile brands are mainly divided by place of origin:
Japanese: Toyota, Honda, Nissan, Mazda, Mitsubishi, Suzuki, Subaru, etc.
German: Mercedes-Benz, BMW, Audi, Porsche, Volkswagen, etc.
US Department: GM includes Buick, Cadillac and Chevrolet, Ford, Chrysler and JEEP.
European system: Peugeot Citroen, Fiat and so on.
China: Geely, Great Wall, Red Flag, Chang'an, BYD, Baojun, etc.
Here is the automobile lapel pins, it's a leopard in the center with silver metal and some recessed dot in it like the spots as leopard. Also it's the brand of LEOPARD, not famous but long history and great automobile. Around leopard is the red color with resin, around the circle is the green color, words:"LEOPARD" and "AUTOMOBILE", some matte recessed inside. Simple automobile brand pins. More related:
Ferdinand Porsche lapel pins
and
Cadillac car pins
.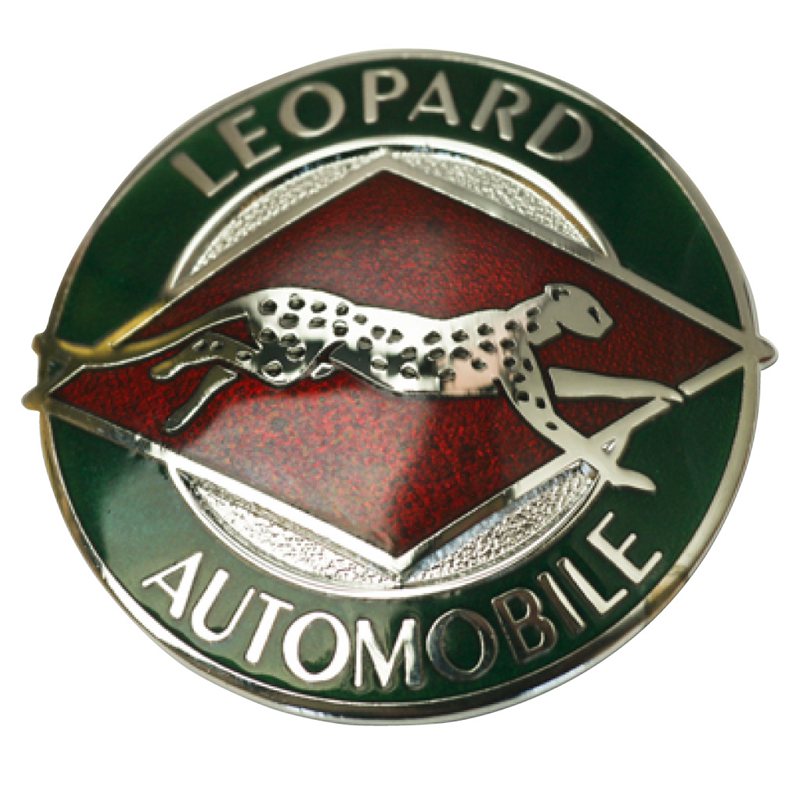 Here is the details:
1) Automobile lapel pins
2) Material: Iron/bronze
3) Size: 1.25" or custom size
4) Attachment: Butterfly clutch or rubbers (black,yellow or red)
5) Production process: Stamping-polishing-silver plating-resin
6) Minimum order: No Minimum (No MOQ)
7) Sampling time: 7 days
8) Delivery time: 10-15 days for 100-5000pcs
9) Packaging: Each into a free poly bag
10)Payment Terms: T/T Western Union Paypal