Ferdinand Porsche (September 3, 1875 - January 30, 1951) was a famous German automotive engineer who revolutionized and built the cars (
cars lapel pins
) today, the car pattern. Porsche founder the design Volkswagen Beetle. Ferdinand Porsche was born on September 3, 1875, into a family of blacksmiths in the town of Marfsdorf, now part of the Czechoslovakia of the Austro-Hungarian Empire. January 30, 1951, returning from Wolfsburg to Stuttgart, died of a stroke, here is the
stroke awareness lapel pins
, at the age of 77.
Ferdinand Porsche greatest achievement in life, is the creation of the Porsche company. As an inventor, designer, mechanic, driver, racing athlete and general manager, Ferdinand Porsche started her own independent career at the age of 56 after years of productive work.
Ferdinand Porsche lapel pins is the festival pins like
music festival pins
, have the year on it and the festival name, the advertising even the photo on it. This Porsche pins making with nickel silver metal, blue color around with name:"3e Paris Porsche Festival-2015", bottom "ferdinand". Center is the big yellow car and a young man, his first classic car, above car is the "RIC HOCHET 60 ans".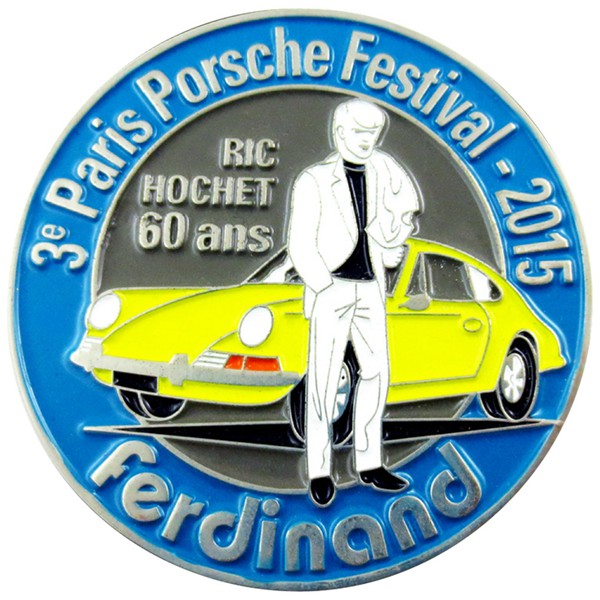 Below is the details:
1) Ferdinand Porsche lapel pins
2) Material: Iron/bronze
3) Size: 1.25" or custom size
4) Attachment: Butterfly clutch or rubbers
5) Production process: Die struck-polishing-silver plating-soft enamel
6) Minimum order: No Minimum (No MOQ)
7) Sampling time: 7 days
8) Delivery time: 10-15 days for 100-5000pcs
9) Packaging: Each into a free poly bag
10)Payment Terms: T/T, Western Union, Paypal