Bats are pterodactyls, the second largest group of animals that are second only to rodents, and the only mammals that have evolved to be truly capable, except for polar and oceanic islands. It is distributed throughout the world, with the largest number of bats in the tropics and subtropics. Most bats are resting during the day and foraging at night. Most of the bats are insectivorous and carnivorous. They mainly use ultrasonic echolocation signals to search for food, detect distance, determine targets, avoid obstacles and escape from predators.
Bats are truly flying beasts, and this evolutionary advantage allows them to take advantage of a new, unitized niche in the beast. Bats are the only mammals that can fly their wings. Although they have wings, they look like birds. But they have no feathers and no eggs. They have the characteristics of a mammal: females lay down pups and are fed with milk.
These two bats lapel pins have the wings spread, flying in the sky. The silver plating metal and black enamel. Top one has the simple line with two small eyes, expand wide wings soft enamel. Bottom one has the cute face, belly with the moon, flower and dots, the wings are small than top one, also silver metal with black hard enamel. Here are more animal pins:
dog lapel pins
and
cat lapel pins
.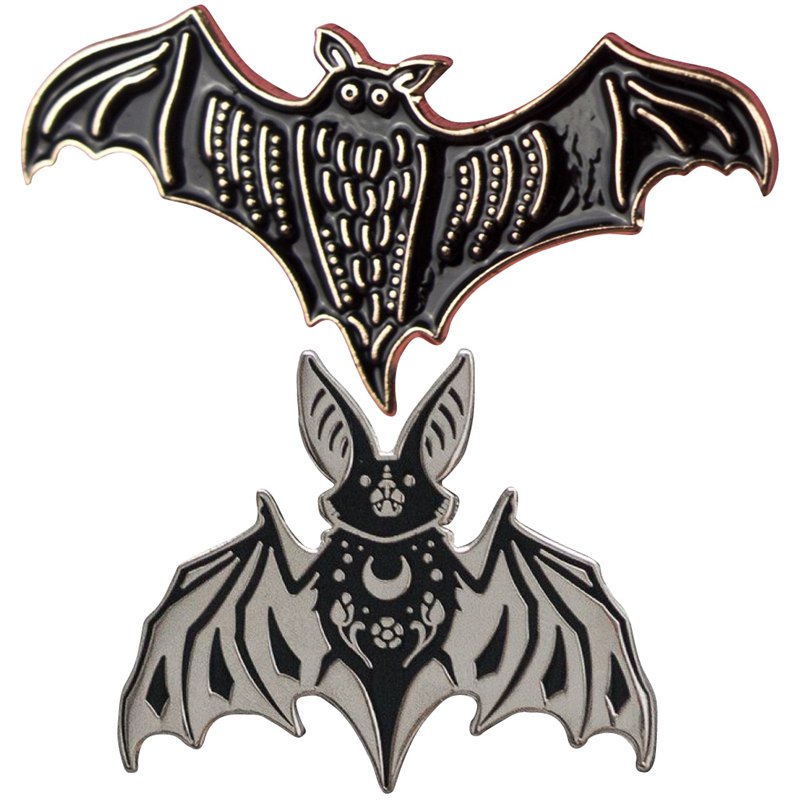 Here is the details:
1) Bats lapel pins
2) Material: Iron/bronze/zinc alloy
3) Size: 1.25" or custom size
4) Attachment: Butterfly clutch or rubbers (black,yellow or red)
5) Production process: Die stamping-polishing-hard enamel-silver plating
6) Minimum order: No Minimum (No MOQ)
7) Sampling time: 7 days
8) Delivery time: 10-15 days for 100-5000pcs
9) Packaging: Each into a free poly bag
10)Payment Terms: T/T Western Union Paypal