Elephants are currently the largest mammals on land. Widely distributed in the tropical and subtropical regions of the sub-Saharan Africa and South Asia and Southeast Asia and even the southern border of China.
Elephants are the largest terrestrial inhabited mammals in the world, usually in family units. The skin of the elephant is very thick, but the skin between the cortical folds is very thin, so the mud bath is often used to prevent mosquito bites. Ivory is an important weapon against the enemy.
The ancestors of elephants appeared on Earth tens of millions of years ago. The elephant family was once one of the most dominant groups of animals on the planet, and more than 400 fossils have been discovered. However, due to historical climate and human causes, this ethnic group has become less and less. There are currently only three species of elephants on the planet: Asian elephants, African grassland elephants, and African forest elephants. With a flexible and muscular long nose and large ears, it has the function of winding up and is a powerful tool for self-defense and feeding.
This elephant lapel pins have a very cute looking, siting on the floor, hold up the long nose, wearing a colorful clothes, a black hat and pink bow tie. Top with blue hair, bottom are blue foot. Clothes are blue and pink colors with printing on hard enamel. Gold metal lines, lovely elephant and more animal pins:
gold lion pins
and
eagle pins
.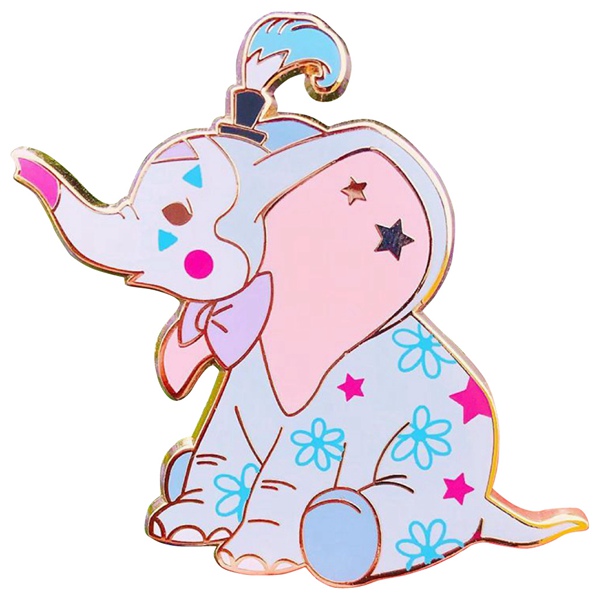 Here is the details:
1) Elephant lapel pins
2) Material: Iron/bronze/zinc alloy
3) Size: 1.25" or custom size
4) Attachment: Butterfly clutch or rubbers (black,yellow or red)
5) Production process: Die casting-polishing-hard enamel-gold plating-printing
6) Minimum order: No Minimum (No MOQ)
7) Sampling time: 7 days
8) Delivery time: 10-15 days for 100-5000pcs
9) Packaging: Each into a free poly bag
10)Payment Terms: T/T Western Union Paypal