The frog belongs to the amphibians of the amphibious and frog family. The adult has no tail. The eggs are produced in water, fertilized in vitro, hatched into sputum, and breathed with sputum. Adults mainly use lungs to breathe and use skin to breathe. Most of the frogs are fertilized by in vitro fertilization, and the fertilized eggs hatch into the pupa outside the mother. Frogs have always been considered oviparous, but scientists have found that a frog living in the rainforest of Sulawesi, Indonesia, can produce ticks. This frog is the only frog among the more than 6,000 frogs in the world that can "squat".
The frog body is slimmer and more good at swimming. The neck is not obvious and there are no ribs. The claws cannot be flexed flexibly, but the limbs are muscular. The most primitive frogs began to evolve early in the Triassic. The earliest frogs with jumping movements appeared in the Jurassic. Because frogs are insects and other invertebrates, they must live on the water's edge. There is a bulging thing on the frog's mouth that can make a sound.
The frog is a cute animal, here is the frog lapel pin: the small round eyes so lovely. The green big head, bottom with light blue color. Some butterfly in it and four green leaves, right seems the frog tail.Top have the pink printing on
hard enamel pins
colors. Related pins are
snake lapel pins
and
lizards lapel pins
.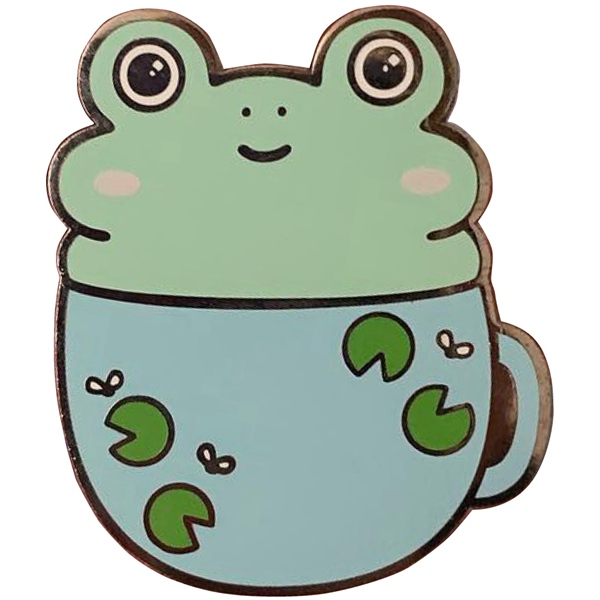 Here is the details:
1) Frog lapel pins
2) Material: Iron/bronze/zinc alloy
3) Size: 1.25" or custom size
4) Attachment: Butterfly clutch or rubbers (black,yellow or red)
5) Production process: Die struck-polishing-hard enamel-silver plating
6) Minimum order: No Minimum (No MOQ)
7) Sampling time: 7 days
8) Delivery time: 10-15 days for 100-5000pcs
9) Packaging: Each into a free poly bag
10)Payment Terms: T/T Western Union Paypal