Star is always using many time for the army, police, military or navy lapel pins. This is traditional and lasting for hundreds of years. Normal design is five star, some times six or more. Also there is some unique lapel pin too. Honor to the exploit commemorative products. Below is the Utah peace pins.

Big military lapel pin, UTAH peace officers ASSN. Like five-pointed star, but it's five big one and five small one. Each big angle has a round metal ball. It's a commemorative military star lapel pin: "The great seal of the state of UTAH 1986".

It is very solemn and sacred, used with past president. Blue soft enamel, polishing two sides .Plated gold. Size of 8.2cm x 8 cm. Belong to die struck lapel pins.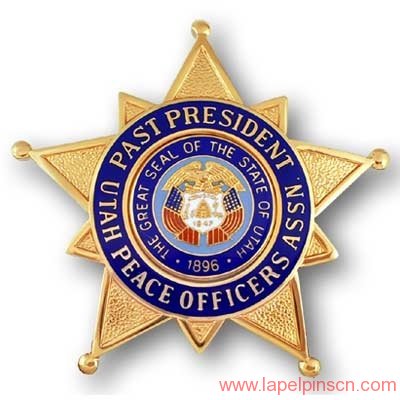 Below is the detailed specification:
1) Military star lapel pin
2) Material: Zinc alloy/ bronze
3) Size: Custom size
4) Attachment: Safety clip
5) Production process: Die struck-plating-soft enamel
6) Minimum order: No MOQ
7) Sampling time: 7 days
8) Delivery time: 8-15 days for 100-10000pcs
9) Packaging: Each into a free poly bag
10)Payment Terms: T/T, Western Union, Paypal