Heart just like a round but dig a little, it's the Love thing. Heart is link to our feeling also. Very beautiful shape and popular in the planet. Many boys and girls are like it. Especially use it to show the love, show the affection. Also familly, friends, partner, whatever you are familiar. It can be to express your emotion.

Heart can be means courage, support and encouragement. But love is constantly used. Take one heart keychain is show to others that you are loving or need it.It can be the cool key chain, but not can be kidding.

This heart key chain is made with two of it. Lovers are fond of them. Boys with the right one, girls the left. When gathered it's the heart. Very interesting and visualized cute keychains. Made of zinc alloy, craftmanship of soft enamel.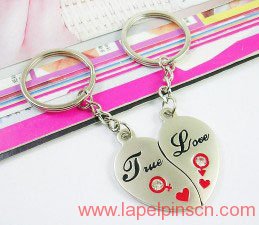 Below is the detailed specification:
1) Heart keychains
2) Material: Iron/Zinc alloy
3) Size: 1 1/2" or custom size
4) Plating color: Silver
5) Production process: Stamping/Casting-plating-enamel
6) Minimum order: 1 piece
7) Sampling time: 8 days
8) Delivery time: 10-18 days for 1000-5000 pcs
9) Packaging: Each into a free poly bag
10)Payment Terms: T/T,Western Union,Paypal