Is it key chain associated with the coin? It sounds hard to think of, but the design of the keychain: round, triangular, oval, and a variety of individual shapes. The coin is circular, as long as the circular design of commemorative coins to add style to become a metal coin keychain.

Both can be used as promo keychain or name keychain, but also as a coin,many metal coin keychain manufacturers can make it.Keychain to the design of convenience, can not scratch clothes, size should be easy to carry. Therefore the design should work hard. Also reflect some of the best meaning, and express some ideas, or favorite sayings, or cute little things, or demonstrate their strange design features.

Many metal keychains are plated, and are the color of the ancient. This metal coin keychain below is the ancient brass plating, with a sense of history. Size of 1 1/2". Made of zinc alloy, relatively lightweight, patterns and text on both sides. Logo depicts a clear, clear font.It's a relatively good product.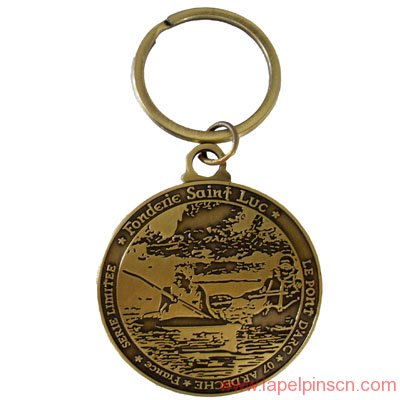 Below is the detailed specification:
1) Metal coin keychains
2) Material: Iron/Zinc alloy
3) Size: 1 1/2" or custom size
4) Plating color: Anti-bronze
5) Production process: Stamping/Casting-plating
6) Minimum order: 1 piece
7) Sampling time: 8 days
8) Delivery time: 10-18 days for 1000-5000 pcs
9) Packaging: Each into a free poly bag
10)Payment Terms: T/T,Western Union,Paypal