Promo contain many products, any goods can make sales promotion. With some small gift use discount from, bundle sales or VIP card. But all of these methods are for one purpose. Promote sales.

The ways of promotional are increased quickly, but free gift is the better choice, like promo keychain, promotional laple pins, promotional bottle opener. These are need less cost and most prople are like it. Sales promotion is the knowledge. Cheaper and practical things are popular with consumer.

This promo key chain is made of iron. Word of PISTACHIO TREE RANCH, it is very simple and nice. Background green is very attract with customer. Plated with anti-brass. Color of white and green. It's not like the cute keychain and coin keychain.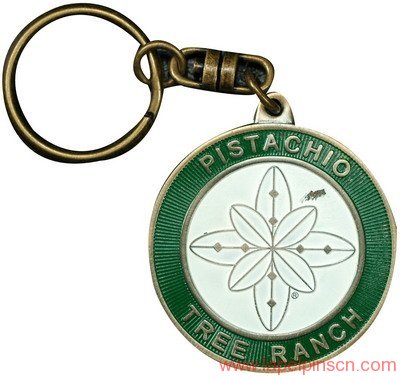 Below is the detailed specification:
1) Promo keychains
2) Material: Iron/Zinc alloy
3) Size: 1" or custom size
4) Plating color: Anti-silver
5) Production process: Stamping/Casting-plating-enamel
6) Minimum order: 1 piece
7) Sampling time: 8 days
8) Delivery time: 10-18 days for 1000-5000 pcs
9) Packaging: Each into a free poly bag
10)Payment Terms: T/T,Western Union,Paypal