A laser is a device that emits light (electromagnetic radiation) through a process of optical amplification based on the stimulated emission of photons. Engrabed can be embossed or dobossed. Can be finished on model. But laser etching is the another process after made.

It can be engraved on metal/plastic or other material. It will be the metal keychain when on metal or black color. Very samll granule on surface. Engraved with serial number or your unique name or logo.The fast and cheapest way to make particular design.

This laser engraved keychain is a pair lovers keychain, can be called samrt car keychain. Zinc alloy, bronze or aluminium keychain can be laser etching. Size of logo is no limited. Every part different is no problem. When you want to make a cool keychain. Laser engeraved is a good chose.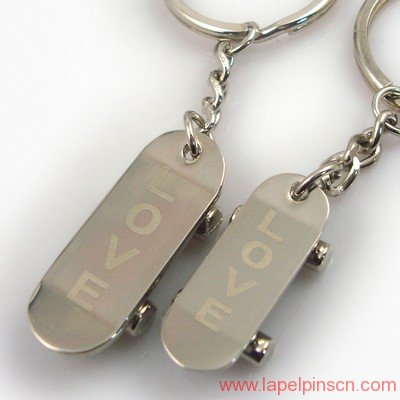 Below is the detailed specification:
1) Personalized name keychain
2) Material: Iron
3) Size: Diameter 44.45mm or custom size
4) Attachment: Metal ring+chain
5) Production process:Die struck-laser
6) Minimum order: No MOQ
7) Sampling time: 7 days
8) Delivery time: 10-18 days for 1000-5000 pcs
9) Packaging: Each into a free OPP bag
10)Payment Terms: T/T,Western Union,Paypal