Now,advertisement is very important with kinds of field. Who hold the customer's eyes, will win the war of sell. So sellers will use many methods to sell. Not only propagandize with the words but the real thing. Especially of sales promotion products. Some small things are very fond of consumer. Like cheap lapel pins, promotional metal key chain, promotional bottle opener or something used in our everyday life. Promotion can motivate the desire of buyer, enhance the quantity of sell.

Promotional lapel pins is a better choose,small,beautiful and most important cheaper.It is liked with many people,wear it with clothes or take it on anywhere you can see.Just use it as a decorated thing.Iron will be the better material,also printing is a good technology.

This die struck lapel pin is made of iron, craftmanship of hard enamel(plain)with silver, attachment of butterfly clutch. Words of HOSIN. Color of green. The common shape with round, very simple but looks fine.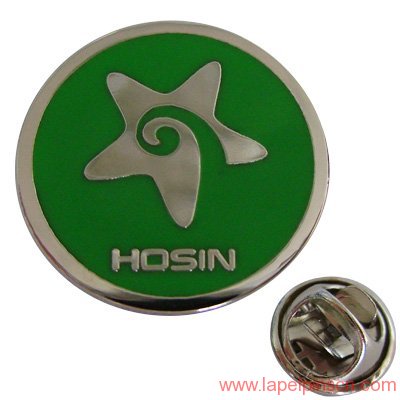 Below is the detailed specification:
1) Promotional lapel pin
2) Material: Iron/ brass
3) Size: Diameter 1" or custom size
4) Plating Color: Silver (nickel)
5) Production process: Stamping-plating-enamel
6) Minimum order: No MOQ
7) Sampling time: 7 days
8) Delivery time: 8-15 days for 100-10000 pcs
9) Packaging: Each into a free poly bag
10)Payment Terms: T/T, Western Union, Paypal