The fish is the most ancient vertebrates. They inhabit almost all aquatic environments on Earth - sea to the salt water from freshwater lakes, rivers and oceans. Fish belonging to the vertebrate subphylum of the chordates. According to Nelson (1994), the world of living species of fish there are 24,618 kinds of marine life in two-thirds of the remaining life in fresh water.

Fish from less than 0.4 inches to over 20 meters long, weighing about 1.5 g to about 4,000 kg. Body color is more with the environment consistent with covert role, and some fish bright colors, possessed markings, identification of significance, the fish can shrink pigment cells change the body color, and some fish can be luminous. Fish is a cold-blooded aquatic vertebrates, gills, jaws and fins.

Below is a fish lapel pin. Just shape with design, no eyes, mouth or fish scale. We do not know what's the fish because of so simple. Plating with bronze whole pins, and no color or words on it. Can be called blank lapel pin too, related animal eagle lapel pins or dog lapel pins. High polishing and nice stamping craftmanship.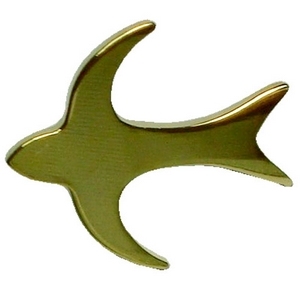 Below is the detailed specification:
1) Fish lapel pin
2) Material: Iron/brass
3) Size: 1"x1" or custom size
4) Attachment: Butterfly clutch
5) Production process: Die struck-punching
6) Minimum order: No MOQ
7) Sampling time: 7 days
8) Delivery time: 8-15 days for 100-10000pcs
9) Packaging: Each into a free poly bag
10)Payment Terms: T/T, Western Union, Paypal