Rainbow is one of the most beautiful natural phenomena in the world. Like mirage, meteor or aurora are very hard to see, may be only several times in your whole life. So cherish them if you have them one day in the future. The normally appear in our life is the rainbow, seems after the rain, but need some condition to make it. Rainbow is an optical phenomenon in the weather. When the sun shines into the mid-air raindrops, the light is refracted and reflected, forming a colorful spectrum of the arch in the sky. Rainbow is a natural phenomenon, is due to the sun hit the air droplets, the occurrence of light reflection and refraction caused.
Rainbow is not like people think it is semi-circular, but a complete round. In other words, the rainbow has no starting point, there is no end. The rainbow is the center of the sun and the vertical connection of the earth, people see the rainbow is only part of the rainbow, while the remaining part of the horizon, so people can not see.
Many people are like rainbow, also love
rainbow lapel pins
. Former rainbow lapel pins is the flag pins with six colors and flag shape. Here is the new rainbow pins: also not the real rainbow, fixed little and cute design. From top to bottom is the pink, yellow, green, blue and purple color, left with word:"Magical", right with "as fuck", all round with white cloud. Gold plating with glitter in it, so this is the
glitter pins
too. Colorful pins are have very nice looking.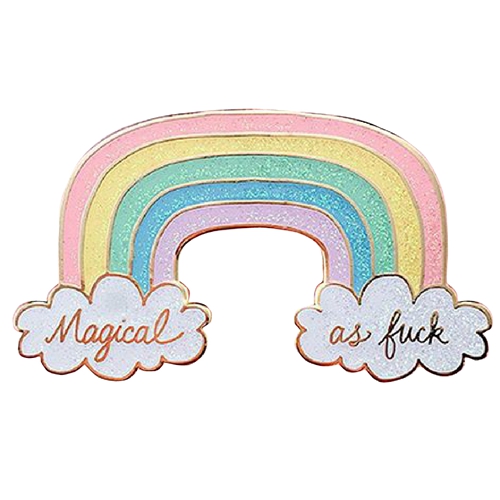 Below is the detailed specifications:
1) Rainbow pins
2) Material: Iron/bronze
3) Size: 1" or custom size
4) Plating: Gold
5) Production process: Die struck-plating-painting+glitter
6) Minimum order: No MOQ
8) Delivery time: 8-15 days for 100-10000pcs
9) Packaging: Each into a free poly bag
10)Payment Terms: T/T, Western Union, Paypal