The rainbow is when the sun light shines on water droplets in the air, light refracted and reflected, the arch of colorful spectrum formed in the sky, appear commonly. Colorful and bent. In East Asia and China, the most popular theory for the seven-color light (from outside to inside): red (red apple pins), orange, yellow (yellow ribbon pins), green, cyan, blue, purple. Rainbow colors because the sun shines on the air close to the circular water droplets, caused by the dispersion of light reflected from.
When the sun being the observer behind the irradiation at a low angle, it may produce a rainbow phenomena can be observed as water droplets in air. Strong rainbow depending on the size of water droplets of the air, the water volume greater more bright rainbow. The Book of Genesis records God the Lord (Christian pins) let Noah to build an ark to destroy the world. After covenant rainbow with Noah and his descendants, do not drop the great flood to destroy the world. This is a historical record of information to explain the rainbow of the significance of this phenomenon on Earth.
Do you want to take one rainbow yourself? Of course, we can wear one rainbow lapel pins on your clothes. Then we can see it everyday, everytime. It will let us happy and keep nice feeling. This flag pins also made with metal and soft enamel. Epoxy on surface, beautiful seven colors, pretty quality.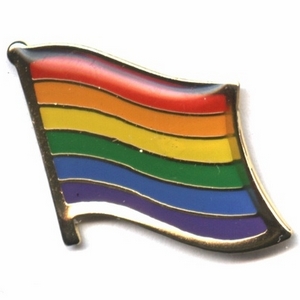 Below is the detailed specification:
1) Rainbow lapel pins
2) Material: Iron/Bronze
3) Size: 1" or custom size
4) Attachment: Butterfly clutch
5) Production process: Stamping-enamel
6) Minimum order: 1 piece
7) Sampling time: 7 days
8) Delivery time: 10-15 days for 1000-5000pcs
9) Packaging: Each into a free poly bag
10)Payment Terms: T/T, Western Union, Paypal