The yellow is part of the wavelength in the visible light of the electromagnetic wave, the wavelength is about 570 ~ 590nm, red and green light mixed to produce yellow, like ripe lemons or sunflowers color, spectrum between green and orange colors. Purple is the complementary color of yellow. The yellow wavelength is moderate, the most glowing colors of all hue, gives light and transparent, brilliant, full color impression of hope and vitality.

The yellow is a warm color. It has the meaning of nature, sun, spring, and is generally considered to be a happy and hopeful color. Yellow is the color of a visible, so it was for health and safety equipment, as well as danger signals. This high visibility is clearly noticeable. Yellow is gold color, the meaning of wealth.

So people used yellow in our life frequently, below is the yellow ribbon lapel pin, here is the pink ribbon lapel pin. It is gold plating, this color is approach to yellow. Above is the hand logo with color purple. Next with word: "Celebrate Inclusion", "All People All The Time". Seems like the vote or political lapel pins.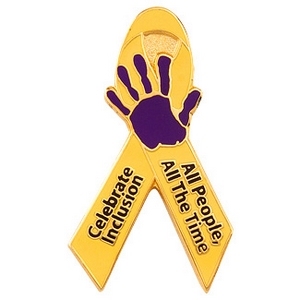 Below is the detailed specification:
1) Yellow ribbon lapel pins
2) Material: Iron/bronze
3) Size: 18x10mm or custom size
4) Attachment: Butterfly clutch
5) Production process: Die struck-plating-enamel
6) Minimum order: No MOQ
7) Sampling time: 7 days
8) Delivery time: 7-18 days for 100-10000pcs
9) Packaging: Each into a free poly bag
10)Payment Terms: T/T, Western Union, Paypal